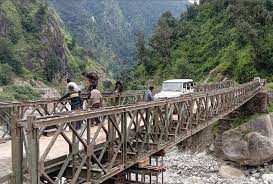 Two new bridges comes up on Indo-China border road
B.D.Kasniyal
Pithoragarh, Dec 28
To strengthen road connectivity to the last border posts in the middle sector of Indo- China border, Border Roads Organisation (BRO) has come with two more Pucca bridges  on Tanakpur to Tawaghat border road. These bridges were to be inaugurated by the Defence Minister Rajnath Singh, on December 27, this year, but due to some urgent engagement,  the inauguration could not take place.
"The bridges, will now be inaugurated virtually by the Defence Minister on January 3, next year," said Jainendra Kumar, Director ( works) of Hirak project, that constructed the bridges.
According to BRO officer, the first bridge, a steel structured bridge of 80 meters span, has been constructed on River Dhauli, on Tawaghat- Gattabagar road. The bridge has been constructed in place of the old bridge that was swept away in the 2013 disaster."The Bridge, that has been named as Dhauli Ganga bridge, will help making smooth transportation to security posts on the Indo-China Border besides all the seven villages of Vyans valley as well as tourists and trekkers visiting 'Adi Kailash' pilgrimage in Vyans valley," said a BRO officer.
Another new bridge, a 30 meters concrete bridge, has been constructed at Gumrodi locality of Kimkhola village near Jauljibi." The bridge will help in smooth transportation on the road from Jauljibi to Tawaghat, " said the BRO officer.
The BRO officer said that after completing the double laneing work on this strategically significant road from Pithoragarh to Baluakot, the work of double laneing on Baluakot to Tawaghat  and Ghatiabagar to Lipulekh portion of the road has been going on." We have also to complete black topping works on Ghatiabagar to Lipulekh portion of road up to March 2023,"said the BRO officer.