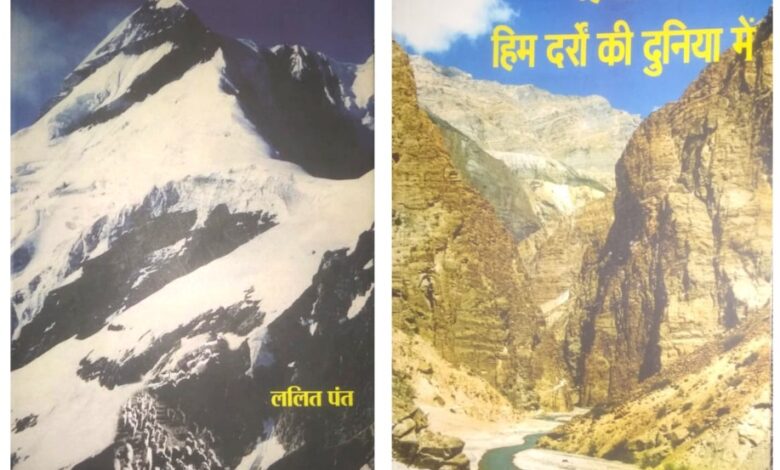 Travelogue: recalling journeys on foot in the Himalayas
B.D.Kasniyal
Pithoragarh, Jan 6
Himalayas had been explored, traversed and visited by several saints in ancients era and British travellers besides curious researchers in recent era to know it's topography, geography, geology, culture, unique patterns of economy and majestic high altitude locations of the world's youngest mountain range that is still in the making.
Two books have been recently published by 'Pahar' publication of Nainital on travels in the Himalayas by its' team members. The books have been written by Dr Lalit Pant, a prominent member of 'Pahar' and a researcher on Himalayan society and it's economy and culture.  'Pahar' is a research group on Himalayan geography, ecology, society and culture based at Nainital.
One of the Books, named, "Himaniyun aur Himdaron ki Duniya mein," is a travelogue of the  journey from Milam in Munsiyati in Pithoragarh district to Malari in Chamoli district by curious travellers of 'Pahar' group, including Col J C Joshi(retd) , Anup Shah, Shekhar Pathak, Dr Shashikant Saxena, Prof, Uma Bhatt, Victor Joshi, M.S. Martolia and Lalit Pant, the author himself.
The 'yatra' was undertaken by the group in the year 1989. The travelogue has been written in a vivid and interesting manner in which Dr Lalit Pant, the writer has brought the adventure, thrill, disappointments, fatigue and human endurance in words  describing the sentiments and  problems faced by the group in travelling and traversing at 17000 feet high rugged terrains from Milam glacial region to Malari on foot in the high Himalayan terrain.
" While the travel from Munsiyari to Milam was beneficial in getting information on, now by gone era of once prosperous Indo -Tibet trade and the methodology adopted by 'Shauka' tribal  traders of Johar valley before 1962, the 'Yatra' in the higher regions  of Himalayas was beneficial in knowing the survival techniques of the locals and also knowing about the fossils remnants of 253 million years old pre-historic "Tethys ocean" in which later  Himalayan region was formed," said Dr Pant.
"To be at top of Topidhunga, a central point between the way to Tibet and to Somna, in Chamoli, was a lifetime moment, we could witness fossils rich Lapthal valley and several high Himalayan streams that enrich waters of Goriganga," said Dr Pant.
The second Book is a compilation of Dr. Lalit Pant's  experiences of travel to Vyans Valley and traverse from Vyas valley to Darma valley via 18000 feet high Sinla pass that links two valleys at high Himalayan altitude.
The book, titled as "Aj Pathon se  Himshikharon tak,"  describes the thrills of travel in the Himalayas. The vyans valley villages, their prosperous past during the days of Tibet trade and their struggle to survive after 1962, have been well written by the writer. "When we reached 18030 feet high Sinla pass at Darma side, we were mesmerized by the  new face of 'Panchachuli' range of mountains, where there were not five but 11 peaks before us, " writes Dr Pant.
The book, also gives a vivid account of visit to 'Chipla Jat Yatra' of lower Himalayan villages of Khela, Rathi, Jumma, Syakuri and Janki,  where non- tribal villagers who worship local deity  'Chipla Kedar' as their deity and take 'Yatra' in a procession every third year to the sacred abode of the deity who resides at 16000 feet meadow in Lower Himalayan region of Chipla range, between Dharchula and Munsiyari sub divisions of pithoragarh district.
" The 42 km long "Chipla Yatra' is a unique religious event taken every third year by local people, it is also unique in hospitality of the locals and originality in its solemnisation," said the writer.
Both the books, released at  Dharchula and Pithoragarh respectively recently, are full of  rare pictures of high Himalayan region and other illustrations giving full information and realisation of the route travelled by the 'Pahar' team. The second book is compilation of six trek journeys undertaken by the writer between Jjuly 1986 to August 2016, to Vyas and Chaudans valleys of upper Himalayan region.