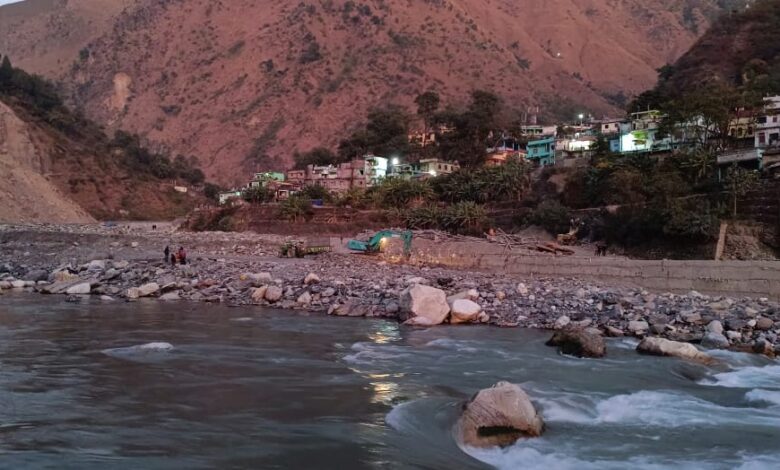 Work on construction of flood protection wall restarts following talks with Nepalese side
B.D.Kasniyal
Pithoragarh, Jan 7
The construction work of flood protection wall along Indian side of river Kali which forms the border between India and Nepal in Pithoragarh district of Uttarakhand started again today, after a two level talks between Indian and Nepalese officers and citizens organisation of two countries last evening.
"Our team had gone to Nepal to hold talks with Nepalese officers of Darchula district, in the matter of stone throwing incidents on Indian workers  engaged in the construction of a flood protection wall on our side and the Nepalese officers have assured  that they will not allow any repetition of stone throwing from Nepalese side by some miscreants. Following the assurance we have again restarted the work on the flood protection wall ," said Divesh Shashni, joint magistrate and SDM of Dharchula.
According to the SDM, on the apprehension of Nepalese officers that debris at Indian side of the river could cause damage to Nepalese side if not removed, the Indian officials informed them that India had already started removing debris from its side."We have informed them that due to debris on the Nepalese side, the flow of river Kali presently flowing towards Indian side due to which the construction work of protection wall at Ghat khola is getting disturbed, "said the SDM after returning from Nepal.
Citizens from both countries also held talks last evening to resolve the crisis of stone throwing and agreed that  citizens from both the countries will work towards cooperating with each other's interests."The meeting between groups of citizens from both the countries was held at Bangabagar locality of India. The Indian side of citizens was represented by Mahiraj Singh Garbiyal, Nrip Garbiyal, Mahendra Budiyal and Dinesh Garbiyal, while Nepalese side of citizen was represented by Amar Singh Bora, Dhirendra Bora, Pavindra Etwal and Yogendra Etwal," said Mahendra Budiyal, leader of Indian citizens involved in the talks.