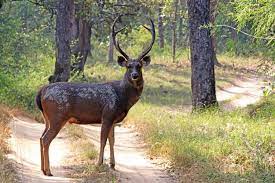 Five poachers held for hunting deer
B.D.Kasniyal
Pithoragarh, jan 12
Anti poaching squad of Pithoragarh forest division of Uttarakhand today arrested five poachers for poaching and killing of a 'Sambhar', a large deer in forests of Saun Gaon region of the division.
"We have also recovered raw and boiled meat of the animal from the spot. The animal was killed by the poachers using a gun. We have also seized the pots on which the meat was being prepared, " said Dinesh Chandra Joshi, the forest officer who led the team of forest employees against the poachers.
According to Joshi, all 5 poachers have been changed under several sections of Wild Life Protection Act 1972." The 'Sambhar' is an endangered animal under IUCN agreement list and has come under danger due to severe hunting, entry of human in its habitats and exploitation of forests," said the forest officer.