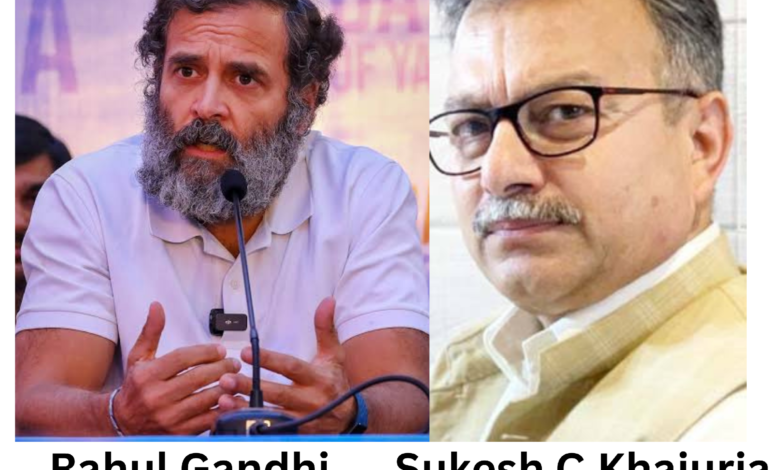 Sukesh.C. Khajuria warn Rahul Gandhi against involvement of 'Bharat Todo' elements in his yatra
Jammu, jan 21
Senior social activist Sukesh C.Khajuria has advised former Congress President and senior leader Rahul Gandhi who is scheduled to reach Jammu on January 23, 2023 to refrain from involving people in his 'Bharat Jodo Yatra' who had been allegedly responsible for conspiring to break the country and divide its people.
The social activist referring to the announcement by National Conference President Dr. Farooq Abduallah to participate in the yatra and objections raised by his son and a former J&K Chief Minister Omar Abduallah against participating of former BJP leader Lal Singh (who had left the congress and joined the BJP before forming his own regional political party in J&K) in the yatra, charged that Dr. Farooq Abduallah had been dancing to the tunes of Pakistan and China and on so many occasions indulged in anti-national activities. "These elements had been involved in "Bharat Todo" (breaking India) since long and cannot be trusted," he added.
Sukesh C.Khajuria said that Dr. Farooq Abduallah besides being a founder member of the J&K Liberation Front, a terrorist organisation which indulged in loot, rape and killings of innocent Indian citizens in J&K in 1990 and had decried to his party workers to cross over to Pakistan to get arms training.
He further told Rahul Gandhi that his 'Bharat Jodo Yatra' which is a march against hatred, violence and fear being spread in the country is being undertaken by him for a pious cause for the  unity of the country and its people which is appreciated by the common people across the country but the involvement of tainted personalities in the yatra could be a blot on it. "The Congress Leader should see who all are joining the yatra and check their past track records" – Khajuria Said.
The social worker said that he had been fighting against such anti-national utterances of these leaders of the state by lodging police complaints and court cases exposing their double standards in public and want to warn Rahul Gandhi against such elements who for their ulterior motives now want to jump on the bandwagon of 'Bharat Jodo Yatra'.