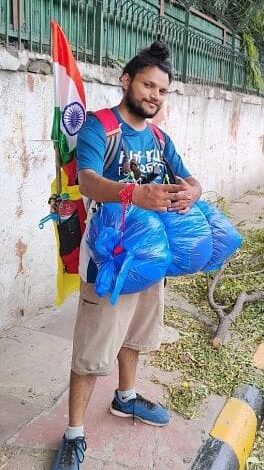 Footloose to explore diversity and dance forms of India
Prem  Prakash  Upadhyay
Bageshwar, Jan 29.
India is full of diversities having different lifestyles, food, art and culture at every step. To understand and collect these diversities, Delhi's Anant Kumar has set out on a solo trip across the country on foot. It would take him more than 12 years to travel the entire country. He has reached Bageshwar during his tour of Kumoan region of Uttarakhand.
He claimed that it has been interesting that he has not spent a single penny of his own during his tour.  Anant, who quit his engineering studies to pursue dance as a career, started his 'padyatra' from New Delhi on May 13, 2022. Initially, his aim was to know about the dance forms of different parts of the country. But ,now after meeting people during his journey, he has also started gathering information about their lifestyle, food, dance, art, culture and history.
During the last five months, he travelled to Bageshwar  after visiting Haridwar, Rishikesh, Dehradun, Mussoorie, Yamunotri, Gangotri, Kedarnath, Badrinath, Niti, Mana, Joshimath, Kalpeshwar, Karnaprayag, Gwaldam, Kot Bhramari Garuda, and Baijnath. On January 26,2023, he left for Munsiyari in Pithoragarh district. Anant said that he would spend one month to cover the entire Kumaon region before entering another state .
A resident of Bihar, when Anant was four years' old, his family shifted to Delhi.
Leaving engineering studies, he took training in dance. He participated in some dance reality shows coming on TV and also worked as a dance teacher to the participants. During this time, he thought of knowing the dance styles of the whole country and he set out on his  journey.
Anant said that wherever he has gone during the journey, he has received a lot of cooperation and love from the people. The entire expenditure of his boarding, lodging and food are taken care by the local people. Anant wants to work on  collecting the diversity of the country and trying to advance the dance form by being a lifelong bachelor. He is also conveying all the information related to the tour to the people through social media.