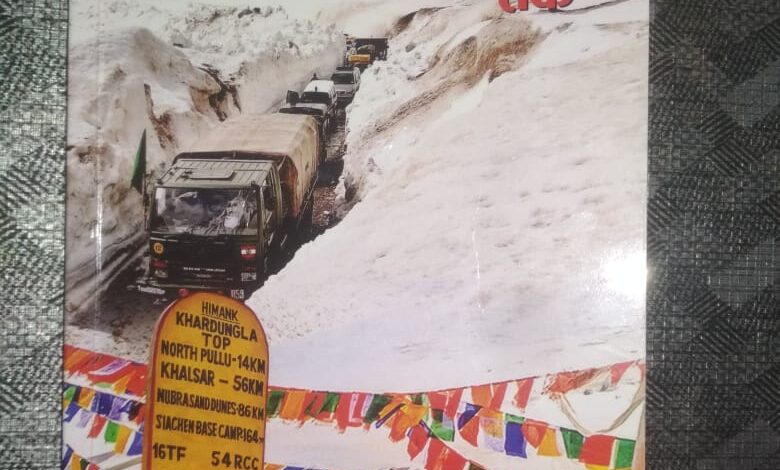 Human story of a soldier from hills
B.D.Kasniyal
Pithoragarh,  Jan 29
Kargil and Siachin, the border hot spots between India and Pakistan have been much written about by senior journalists, writers and senior army officers from time to time since past 75 years, but to view the vibrancy of life in these extreme cold places through the eyes of a soldier has been made possible by a retired soldier of Indian army, Prakash Chandra Punetha, who has recently published his third book, 'Silpata se Siachin.' the memoirs of his day in army.
The book, "Silpata se Siachin." besides giving a human outlook of an Indian soldier,  also sketches the life in border posts on the Indo-Pak border and gives informative detail of the journey from his native village of Silpata in Uttarakhand hills to Siachin, from he was posted during his army day . he retired after serving Indian Army for 28 years."My childhood remained full of struggle like that of every 'Pahadi' youth in hill region as I had to support my parents as well as other family member after my father lost his job, " he recalled. .
His is a biographical account of the journey of an Indian soldier from his early days when decides to join the army and prepares himself for the job by joining NCC and other adventure courses."I had seen in childhood my mother's struggle to support the family when she used to ascend 11 km to a forest steep high from our village to collect firewood in winter months in deep snowy forest and used to cry in deep pains on reaching home, "said the writer.
The writer shares an emotional moment when he buys  pair of  slippers for his mother after his training but the mother finds that useless saying that these are of no use for her in her old age  but would have helped her perhaps in her working days. Later, the writer fulfilled his mother's wish to visit Vaishno devi  shrine in J&K by taking her to the hill shrine on his back from Banganga to the temple. "It was my friend Rahmat Ali, who helped me in completing the yatra of my mother," the writer wrote..
The book is worth reading as it has been written in simple Hindi, and has become able to show the human outlook of an Indian soldier and emotions in describing the geographical, religious, social and scenic beauty of the places where he remained posted as an army man."The description of life in Jaisalmer, Ratanchuk, Kargil, Ladakh, Khardugla, Leh, Lamayaru and finally Siachin glacier, is informative and with human outlook," said Devendra Mewari, a leading writer, who has written the preface of the book.
"Some emotional points, like fulfilling his mother's last wish of visiting Vaishno Devi shrine by carrying her on his back, saving a pregnant sheep from being slaughtered till she delivered the baby sheep, helping attitude of Kashmiri locals towards Indian armymen and the positive attitude of the Indian soldiers facing the vagaries of extreme nature while guarding our borders make the book more readable, claimed Devendra  Mewari.