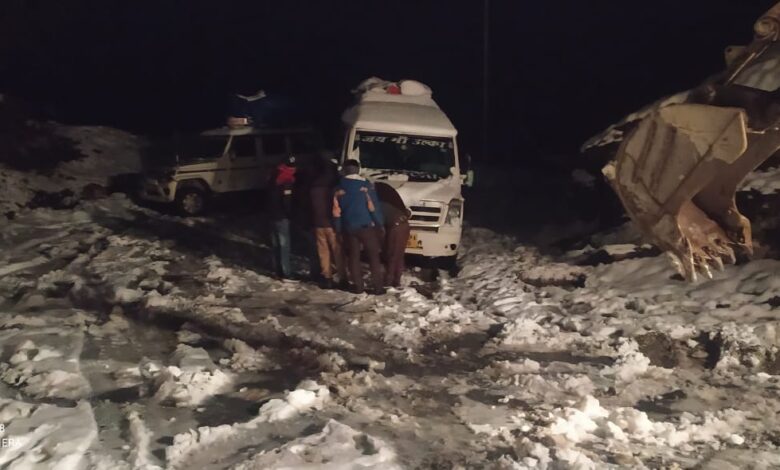 Tourists stranded in snow rescued by BRO
B.D.Kasniyal
Pithoragarh, Feb 1
A total of 39 tourists, including six women and seven children, trapped in heavy snowfall for over eight hours on Thal to Munsiyari road, were rescued by Border Roads Organisation (BRO) personnel early morning on Wednesday.
"The tourists, who were on their way to Munsiyari from various parts of the country to witness snowfall were stuck on way to Munsiyari due to heavy snowfall on the way. On getting information, we deputed 2 JCB machines to remove the snow and could rescue the tourists at 2 am today, "said  Ganpati, a BRO officer.
"After the vehicles of tourists were stuck up at Ratapani due to heavy snow with temperature going down to minus 5 degree, it was difficult for minors and women, We informed the officials and encouraged the tourists to remain patient," said Durga Prasad, a senior BJP leader, who  remained with the tourists till they were rescued.
Meanwhile, eight other local residents returning to Munsiyari from Haldwani,  were also stranded at Kalamuni peak due to heavy snowfall."We had to lit fire to keep us warm all  night, after 3 inches of snow covered the road ahead from Kalamuni to Munsiyari," said Beeru Dharmashaktu, a trapped local.