BJP leaders heat up political scenario of Uttarakhand amidst shivering cold
S.M.A.KAZMI
Dehradun, Feb 1
Controversial statements issued by senior Uttarakhand Bharatiya Janata Party (BJP) including a state minister regarding opposition parties has not only heated up the political temperatures in the hill state which is reeling under an intense cold wave due to heavy snowfall early this week but also put a question mark over the intellect, intentions and motivations of the ruling party leaders.
The allegation by Uttarakhand state BJP president Mahendra Bhatt regarding involvement of Maoists and leftists in the agitation by the people of Joshimath town has not gone well with the beleaguered population of the hill town in Chamoli district who have lost their homes and hearths following land subsidence. The main opposition Congress party is incensed at terming martyrdom of Gandhi family as accident by Uttrakhand Minister Ganesh Joshi.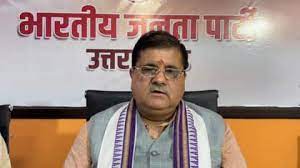 Mahendra Bhatt who himself hails from the area and lost the last state assembly polls from Badrinath to Congress candidate Rajindra Bhandari, after the state executive committee meeting of the ruling BJP held at Raiwala near Rishikesh two days ago claimed that Maoists and leftists are behind the agitation launched by the affected people. He further charged that Maoists and leftists who are supporters of China are against smooth running of 'Char Dham yatra' and olding winter sports at Skiing resort of Auli near Joshimath. " They are anti-development and against any big project and most of the big industries which closed down in the country were due to left organisations," he charged.
Indresh Maikhuri, a prominent young leader belonging to CPI (ML) who has been participating in the agitation said that the statement showed the intellectual bankruptcy of ruling BJP leaders. " He has no idea that there are no Maoists in Uttarakhand and there is a difference between Maoists and CPI(ML) which is a recognised political party and other left parties. The BJP leaders who are unable to provide any sustenance or policy for the Joshimath affected people but are indulging in such utterances to misled the masses. The people of Uttarkhand and particularly of Joshimath has seen through their designs which are cloaked in the garb of pseudo-nationalism. The trade with China is increasing every year by the BJP central government and people agitating for rehabilitation are termed as Maoists ," he added.
Atul Sati, convenor of the Joshimath Bacchao Sangharash Samiti, which is spearheading the agitation and highlighting the problem of land subsidence and damage to houses at Joshimath for the past more than 15 months and who also belongs to CPI(ML) said that it was strange that senior ruling BJP leaders are sitting on a swing with Chinese leader and Joshimath agitators are labelled as 'Chinese agents'. " The state and central government should take action if there are any Maoists or Chinese agents in the state," he dared.
After questioning by media about differences between CPI(ML) and Maoists, Mahendra Bhatt stood his ground about allegations against left parties and their pro-China approach in a sensitive border state.
Interestingly, Mahendra Bhatt, a former BJP legislator from Badrinath assembly segment made highly communal and controversial statements targeting Muslims during Covid pandemic. He had come up with his intended anti-Muslim advisory to the people of the state to avoid 'Corona virus'.
In a facebook post, he had advised people that the danger of corona virus has increased due to Tablighi Jamaat at Nizamuddin. He had advised the people of Uttarakhand not to buy vegetables coming from Najibabad in uttar Pradesh and also to first look from which shop they are buying and from whom they are buying vegetables. He further asked the people to buy vegetables from the farmers of Uttarakhand only. In a veiled reference to Muslims without naming them, he asked the people to think before going to the shops of barbers and shoemakers and check whether there is 'Corona Virus' or not. In another advisory he advised the people to be cautious while visiting barber shops and beauty parlours which opened after the lockdown.
Apparently targeting barbers belonging to Muslim community, Mahendra Bhatt had advised general public to go to the barber shops with their own towels and ensure that do not do any 'wrong'. The people should ensure that shops they visit should have 'Hanuman Chalisa' written. In his message, he has tried to convey the message that people should avoid Muslim barbers. A majority of the barber shops in the state even in garhwal and Kumoan hills are owned by Muslims from neighbouring Western Uttar Pradesh.
Surprisingly, there are no voices to protest against such blatant attempts to target a community. Under the onslaught of 'Sangh Parivar' communal propaganda, the main opposition Congress had maintained a silence on such incidents. There were few feeble voices of protests as none want to be seen siding with 'Muslims' during the present communal discourse in areas dominated by upper caste Hindus.
There had been a systematic campaign by the 'Sangh Parivar' organizations against the Muslims through word of mouth and through social media. Appeals are flouted on social media about the 'dangers' of increasing Muslim population in the Uttarakhand hills and need to 'boycott' them. The situation has become worse since the BJP government came to power in March 2017. There had been attacks on Muslim shops in the garhwal hills on trivial pretexts.
The ruling BJP reaped the benefits in the last state assembly polls by showing the fear of 'Muslims invading' the hills by portraying main opposition Congress as pro-Muslim .Harish Rawat , a former Chief Uttarakhand Chief Minister was shown as Sir Syed Ahmed Khan, founder of Aligarh Muslim University with a morphed photo in social media. The highly communal campaign by senior BJP leaders helped them to resounding win.
After recurring recruitment scams , Ankita Bhandari murder case, Joshimath natural disaster and announcement by senior Congress leader Rahul Gandhi to visit Joshimath after his 'Bharat Jodo Yatra' has raised the heckles of the ruling BJP leaders.
Interestingly, the state government last week also sacked Chamoli district Zila Panchayat president Rajni Bhandari who is wife of local Congress legislator and former Uttarakhand Minister Rajindra Bhandari. She was removed on the charges of illegality in granting tenders for the 'Nandadevi Raj Jat Yatra' in the year 2011-12. Rajindra Bhandari and Uttarakhand Congress charged that it was vendetta politics by ruling BJP to target Rajindra Bhandari who also along with 'Joshimath Bacchao Sangharash Samiti' went to Chief Minister to highlight the issue of Joshimath land subsidence.
" There had been two inquiries by two previous District Magistrates and none could find a financial irregularity of a single penny but the present BJP government during Joshimath crisis decided to sack my wife," said Rajindra Bhandari.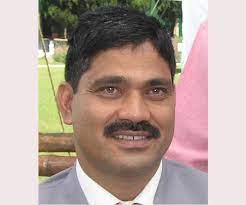 To cap it all, Uttarakhand Minister Ganesh joshi commenting on the speech of Congress leader Rahul Gandhi at the conclusion of 'Bharat Jodo Yatra' regarding sentiments of the families of martyrs, said that martyrdom is not the monopoly of the Gandhi family. "I pity Rahul's intelligence. India's independence struggle saw the martyrdom of Bhagat Singh, Savarkar and Chander Shekahr Azad. What happened with the members of the Gandhi family were accidents. There is a difference between accidents and martyrdom," he said.
The statement infuriated the Congress workers who burnt effigies of Ganesh Joshi at district headquarters against his utterances.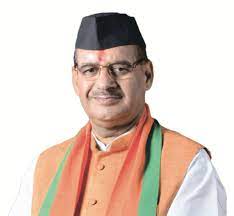 It was Ganesh Joshi who was allegedly involved in a case of assault on a police horse named 'Shaktiman' during a BJP protest outside the state assembly on March 14, 2016.
An FIR was lodged against Ganesh Joshi and his associates at Nehru Colony police station in connection with the alleged assault on the horse on March 14, 2016. The police horse was being used to control the agitating BJP workers who had ghereoed the state assembly in protest against the then Harish Rawat government. The leg of the horse was broken and photos of BJP MLA Ganesh Joshi assaulting the horse evoked strong public resentment.
While invoking the various sections of the Prevention of Animal Cruelty Act, Ganesh Joshi was booked under Section 429 (mischief by killing or maiming cattle) and section 188 (disobedience to order duly promulgated by public servant) of the IPC.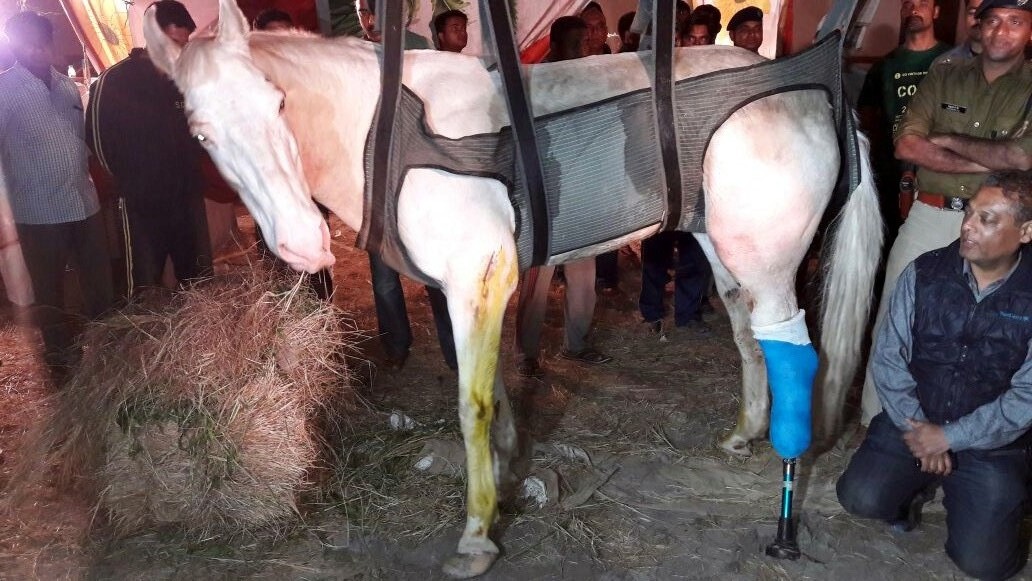 Ganesh Joshi was sent to 14 day judicial custodyby a local court for allegedly causing injuries to the horse. One of the hind leg of the horse was amputated and the horse, later died. Ganesh Joshi had denied causing any harm to the animal. When BJP government came to power after 2017 state assembly polls, the then Chief Minister Trivendra Singh Rawat withdrew the case against him.
Senior vice-president of Uttarakhand Congress Suryakant Dhasmana has termed the utterances as 'shameful'. The state BJP leaders instead of providing succor to the victims of Joshimath are indulging in such useless and baseless talks showing their true intentions of subverting the real issues facing the people of the state.