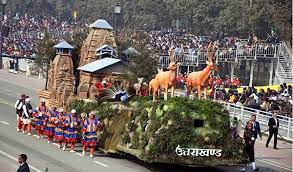 'Manaskhand' tableau first prize brought recognition for Uttarakhand art forms
B.D.Kasniyal
Pithoragarh, Jan 31
'Manaskhand', the tableau Uttarakhand state, which was adjudged the best tableau to be displayed at the Republic Day parade 2023 was joint effort of several artists groups led by  KS Chauhan, deputy director of information department of the state.
The tableau included besides famous 'Choliya'dance of Kumoan region, animals and birds from Corbett National park and high Himalayan region of the state, Kumaoni folk art 'Aipan', Jageswar temple group  representing temples described in 'Manaskhand' of 'Sikandpuran', A religious Hindu text .
"The theme was given by the Chief Minister himself and other departments and groups worked towards giving a perfect representative to his theme," said Beena Bhatt, director at cultural department in the state.
The 17 member 'Choliya' dancers group, led by Bhim Ram Kohli, based in Kinigar village of Pithoragarh district, is  elated after been given first prize for the tableau."We danced for three kilometres distance but felt no fatigue as every member of the team was energetic, " claimed  Bhim Ram Kohli.
Hemraj Bisht, Director of 'Navodaya Parvatiya Kala Kendra, a cultural organisation that brought to limelight the 'Choliya' dance form said that the artists of 'Kumaon Choliya Vikash Samiti,' had firstly presented their art before the then UP Chief Minister Mulayam Singh Yadav, when he arrived at Pithoragarh to inaugurate Naini-Saini airstrip in the year 1992." The artists group later organised their own cultural organisation named, 'Kumaon Choliya Vikash Samiti, Kinigar in 2005," said Hemraj Bisht.
The tableau also had a representative folk song 'Jai ho kumaon, jai ho Garhwala, written by Pithoragarh based folk writer Janardan Upreti." It was Navin Tolia of Chandani Enterprises, Haldwani who first composed the song in the group voice of eight  local artists. The composition was used by the information department to  represent the state tableau this year," said Upreti.
'Aipan', the traditional Kumaoni art form displayed on various auspicious occasions, was also given representation in the Uttarakhand tableau 'Manaskhand'." Our team, 'Meenakriti', had finalised the section to be representative in the tableau. We are feeling proud that the 'Aipan' art is getting national recognition, " said Meenakshi Joshi, Aipan artist from Ramnagar.
K.S.Chauhan, deputy director of Information department, the anchor behind the tableau is not only a connoisseur of folk arts in the state, but also an artists himself. He had led the state for  a record 13 times in preparing tableau for Republic Day parades.
"Wen he asked me in September last year to name of 'Choliya' dancer party that was perfect in representing the dance form for the state, we gave the name of  Bhim Ram & party, for the tableau, " said Girija Joshi, information officer of Champawat district who had been in Pithoragarh a year back