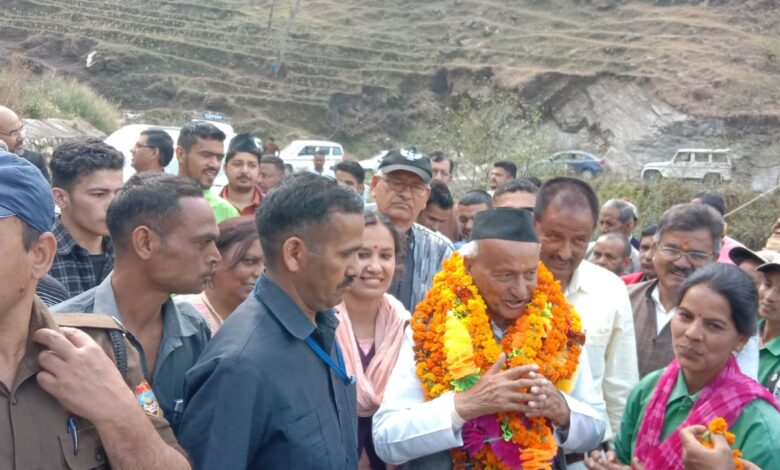 Koshiyari becomes politically active, irritates rival within ruling BJP
B.D.Kasniyal
Pithoragarh, March 11
Bhagat Singh Koshiyari, senior ruling Bharatiya janata Party (BJP) leader and a former Governor of Maharashtra state, who returned recently to his native state, today addressed BJP party workers in Kanalichina block of Didihat assembly constituency giving indications that he has not actually retired from the state politics yet which he had claimed while resigning as Governor of Maharashtra. He had been a Chief minister of Uttarakhand for a brief period and his protege Pushkar Singh Dhami is presently the state Chief Minister.
Addressing BJP workers, Koshiyari said that after relinquishing the post of Governor of Maharashtra, he has taken over task of making Uttrakhand state, a self- reliant state and wants the youth of the state to take lessons from neighbouring Himachal Pradesh in  self employment through agriculture and horticulture." I am travelling from Pithoragarh to Uttarakashi across Uttarakhand to find out how the state may be made self-reliant," said Koshiyari.
The meeting was organised by Kishan Singh Bhandari, a BJP rebel leader who had fought elections from the Didihat assembly seat against six time MLA and senior BJP leader Bishan Singh Chuphal in the last year assembly polls.
"Prime Minister Narendra Modi is doing good work in the country and under his blessing, the Uttarakhand government is also doing fine work," claimed Koshiyari.
His address to party workers of Didihat assembly constituency was termed as objectionable by the supporters of Bishan Singh Chuphal, Didihat MLA and senior BJP leader.
Chuphal had alleged that it was on the advise of Bhagat Singh Koshiyari that Chief Minister Pushkar Singh Dhami did not induct him into his ministry when Dhami government took over in March last year following assembly election victory.
"Since Kishan Singh Bhandari has been long been patronised by Koshiyari against me from this seat, the act of addressing workers of my assembly without informing  me is an act of sabotaging the party," alleged Chuphal.
Bishan Singh Chuphal further charged that Bhagat Singh Koshiyari had tried to damage him politically since 1996 but could not do anything." As of today, he is not even a member of BJP and is well exposed by his activities in the eyes of the party high command and in such a situation he will not able to damage me or give benefits to his camp followers," said Chuphal.
Kishan Singh Bhandari, a former 'Zila Panchayat' chairperson, had organised the workers meet to be addressed by Koshiyari, when the later returned from Muwani, a place where Bhagat Singh Koshiyari runs an 'Ashram' for destitute women."The 'Ashram', established by famous freedom fighter of Muwani area, Sher Singh Karki, is being run by Koshiyari after death of Karki," said Puran Singh   a resident of Muwani town.After resigning as governor of Maharashtra, Koshiyari was on his first visit to Pithoragarh from where he started his political and social career and has again become active.