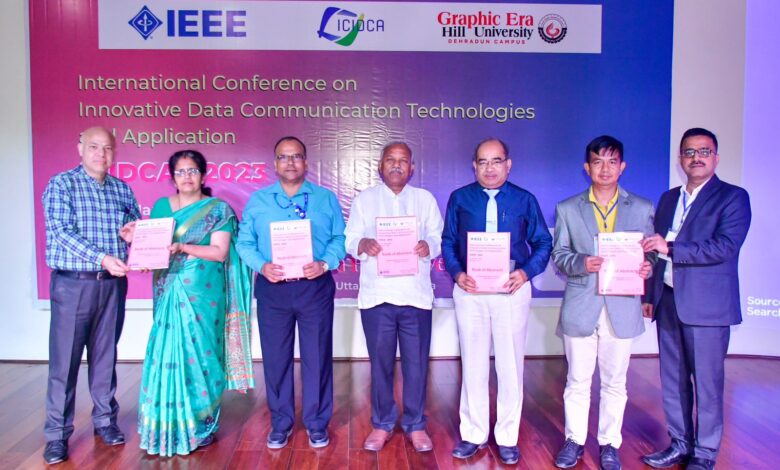 Artificial intelligence can help prevent suicides
Dehradun, March 15
Suicides can now be prevented by the use of Artificial Intelligence (AI). A research paper presented at an International Conference on Innovative Data Communication at Graphic Era hill University today, elaborated on how  footage of CCTV cameras at homes can be used to study people's behavioural patterns by the use  of artificial intelligence and machine learning. The findings can be analysed and used for suicide prevention.
The three-day conference has received 627 research papers from India and countries like USA, Mexico, China, Vietnam, Philippines, Bangladesh, Malaysia and Indonesia. Many interesting research papers were assessed in the conference. Using artificial intelligence, machine learning and cloud computing  for controlling traffic lights, operating emergency traffic services, securing data,  using artificial intelligence, protecting traffic management systems from hackers, preventing  financial frauds and using artificial Intelligence and machine learning for medical communication were among 191 papers accepted in the conference.
Chief Guest of the conference Prof. (Dr.) Daya Krishnan Lobiyal from Jawaharlal Nehru University, Delhi, Guest of Honor,   Prof. (Dr.) Harishankar Srivastava, Scientist, Indian Institute of Remote Sensing (IIRS), Dehradun,  Graphic Era Hill University's Director General Dr. H.N. Nagaraja, Vice-Chancellor Dr. R. Gori, Head of the Department of Computer Sciences, Divyahash Bordiloi and teachers remained  present in the conference. The conference is being convened by Dr. Mahesh Manchanda.
This three-day conference is being jointly organised by the department of computer sciences of the university and Institute of Electrical and Electronics Engineers (IEEE).