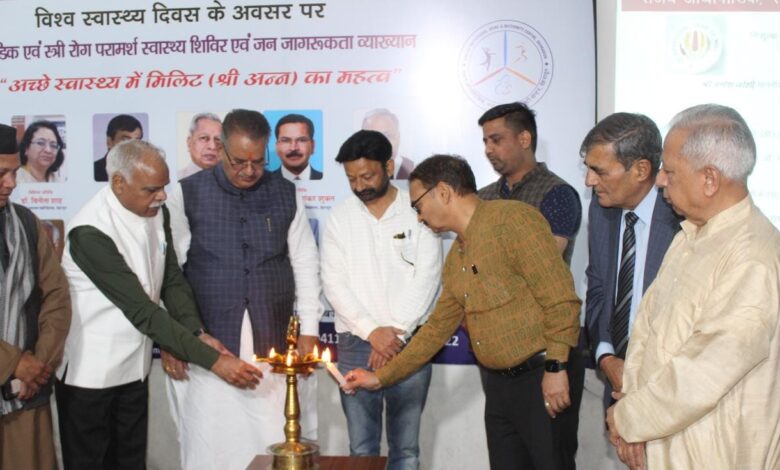 Millets effective for good health: Padma Shri Dr.  B. K.  S. Sanjay
Dehradun, April 7
Sanjay Orthopaedic Spine and Maternity Centre and Sewa Society organized a seminar on "Importance of Millet for Good Health" on the occasion of World Health Day, here today.Uttarakhand Agriculture Minister Ganesh Joshi,  was the chief guest on the occasion while other special guests included Prof. (Dr.)  Hem Chandra Pandey, Vice-Chancellor, H. N. B.  University of Medical Education, Dehradun, Dr.  Mahavir Agarwal, Vice-Chancellor, Patanjali Yogpeeth, Haridwar, Prof.  Dr. Amal Shankar Shukla, Prof.  Graphic Era Deemed University, Surendra Mittal, renowned social worker and Dr.  S. N.  Singh, Orthopedic Surgeon. The guests lighted the traditional lamp to inaugurate the programme.
Padma Shri B. K. S. Sanjay welcomed the Chief Guest and dignitaries  by presenting saplings and thanked them for gracing the occasion. Dr.  B. K.  S. Sanjay in his address said that the consumption of coarse grains should increase because coarse grains are not only source of energy but that of fiber, protein and other nutrients which are beneficial for health. Dr. Sanjay appealed to the government to encourage and motivate the farmers to grow more coarse grains, which will not only improve the economic health of the farmers but also the physical health of the society. He said he himself take the porridge of flat bread of Jawar, Bajra, Ragi, six day a week on rotational basis.
Agriculture Minister Ganesh Joshi said that our government has resolved that when the state is celebrating its 25th anniversary, the production of coarse grains in Uttarakhand will be doubled. He further  said that the state government is already providing 1kg of the coarse grains out of 5 kg to all bonafied beneficiares. Orthopedic Surgeon Dr. S. N.  Singh said that the grain which was called the food grain of the poor, is being liked by rich people also for its quality.
President's Award-winning Gynecologist and Obstetrician Dr.  Sujata Sanjay said that people are not able to guess the side effects of eating junk food right now, but on the basis of my experience, I can say that junk food is an important cause of menstrual irregularities and infertility amongst young females. Orthopedic and Spine Surgeon Dr. Gaurav Sanjay analyzed all the steps taken by the World Health Organization thoroughly and said  that today the whole world could become free from epidemics like smallpox, polio due to the positive work of the World Health Organization.
Senior RSS worker Surendra Mittal, who was the special guest of the program, said that the aim of the Sangh is that everyone should be happy and healthy. RSS is working to give the health benefit to down trodden and under privileged population by various programs. Dr.  Mahavir Agarwal, Vice-Chancellor of Patanjali Yogpeeth, Haridwar said that prayers and meals should be performed together at least once a day in families to keep the family healthy and happy. Vice-Chancellor of Uttarakhand Medical University Dr. Hem Chandra Pandey said that today about 90 percent of deliveries are taking place in hospitals. The credit goes to the force of ANM and Aanganwadi workers.  It has led to an incomparable reduction in maternal mortality rate.
Prof. Amal Shankar Shukla of Graphic Era (deemed to be University) Dehradun said that the importance of coarse grains can be gauged from the fact that only special food prepared with these grains was eaten on special festivals in the past.