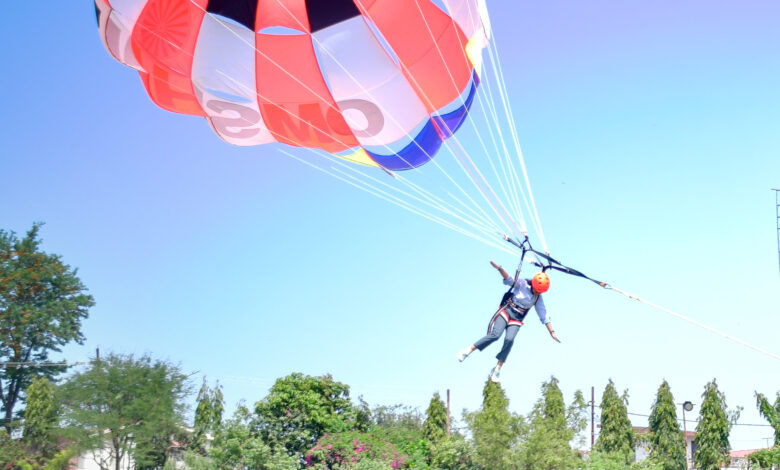 Graphic Era university students exposed to parasailing and thrills of flying
Dehradun,  April 11
The Graphic Era Deemed University scripted a new story in the field of adventure sports. Tthe students got acquainted with the feeling of flying in the air by parasailing in the university grounds as hundreds of students enjoyed the mesmerizing sight on campus grounds on April 10,2023.
The students were taught the tricks of flying in the air through parasailing and were also given ample opportunity to fly. In the workshop organized on the subject of 'Value of Adventure in Life', students were educated about adventure sports by Sky diving and parasailing instructor Squadron Leader SPS Kaushik.
Speaking on the occasion, he said that adventure sports reduce stress of the youth and make them determined. These games strengthen their character and develop their overall personality, he added.
Squadron Leader Kaushik further said that an adventure sport like Parasailing inspires youth towards Armed Forces. These sports open opportunities for youth to shape their future. He also answered the questions of the students. In the workshop, the volunteers of the Brahmakumari organization took meditation session.
Vice-Chancellor Dr. Narpinder Singh called upon the students to take the criticisms positively.
Students from Graphic Era Deemed University and Graphic Era Hill University as well as Graphic Era Global School participated in this workshop of the Aerospace Engineering Department of Graphic Era. After the workshop, many students from es did parasailing in the university grounds. Hundreds of students cheered and expressed their happiness on seeing their peers flying in the air with colourful balloons tied to the back of the jeep. Dr. Sudhir Joshi, Head of the Department of Aerospace, said that the Aerospace Engineering Department has also made arrangements to teach drone making, maintenance and flying techniques.
Dr. Kamal Ghanshala, Chairman, Graphic Era Group of Institutions, said that along with academics, sports and adventure sports are also very important for the overall development of personality. While these sports develop a sense of discipline, team spirit and the ability to take right decisions in the hour of crisis.