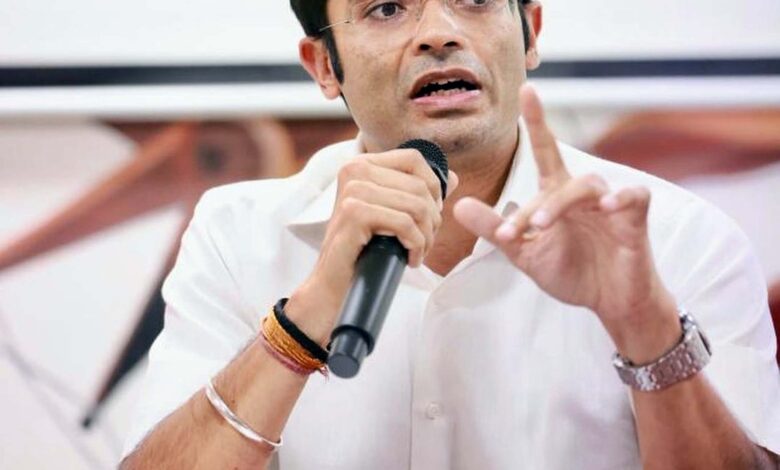 Jaiveer Shergill reminds AAP govt of its forgotten promise of "drug free" Punjab
Chandigarh, April 11
Despite tall promises made by Bhagwant Mann and Aam Aadmi Party on eradicating the curse of drug menace from Punjab, the problem remains where it was. In fact, it has assumed a much more alarming proportion reflecting the non-seriousness of the government in tackling it.
Expressing these views, while reprimanding the Punjab CM Bhagwant Mann for his categorical claims before Punjab polls that "Hamari sarkar aayegi, 3 mahine mein hum nasha khatam kar denge (Our government will come, we will end drug menace within 3 months), BJP National Spokesperson Jaiveer Shergill has said that "The CM should be ashamed of his miserable failure to act and take 'tangible action' in this regard even after an year."
In a strongly worded statement issued today, Shergill said, "As per reports in the various sections of the media, there had been about 200 'drug overdose' deaths in the first 10 months of the Bhagwant Mann-led AAP government. The situation is so grim that 'drug overdose' deaths are being reported from various districts of the state on a regular basis." Referring to the unfortunate incident of the murder of the anti-drug activist Lambardar Ram Gopal in Jalandhar in January this year, Shergill said, "The incident clearly reflects that the drug traffickers have no fear of the police."
Stating that AAP leaders including Mann, who used to mince no words against previous governments for failing to take any action against the 'big fishes' involved in drug trade, Shergill, while taking a jibe at Mann, said, "I would like to ask Mukhya Mantri Sahib, how many 'big fishes' the AAP government has apprehended in the last one year."
Launching a frontal attack on Delhi CM Arvind Kejriwal, the BJP Spokesperson said that he would like to remind Kejriwal of his statement given before news channels, wherein he had said, "Agar sarkar mili hui na ho nashe walo ke saath to sarkar 3-4 mahine ke aandar nashe ke upar thos karwai kar sakti hai (If the government is not hand in glove with drug mafia, then within 3-4 months, the government can take concrete action against drugs menace)." Shergill opined, "Now, going by his (Kejriwal) words, what should we assume, as it has been one year since AAP Government has been ruling Punjab and the drug problem has worsened further, playing havoc with the people of Punjab especially youth."
The senior BJP leader also recalled that in the first week of December 2022, even the Supreme Court had pulled up the Punjab Government mentioning that the problem of drug trafficking on the rise among youth in Punjab is quite a serious matter. Shergill further said that recently the Punjab Governor Banwarilal Purohit, during his two-day tour of Punjab's border villages, had said, "It is not the question of adults only. Drugs have entered schools and children are getting addicted." The Governor was also quoted saying that whenever he goes to villages, people say that drugs are available like grocery items at general stores.
Shergill demanded that AAP should come out with a 'white paper' on steps taken to eradicate drug menace from Punjab. Further advising the Mann to come out of 'fool's paradise' by merely taking cosmetic measures to deal with the crucial problem, the senior BJP leader said that in order to end the curse of the drugs in Punjab and to save the youth – the most vulnerable target, the government must take stringent steps, strengthen state intelligence network, break the complete drug supply chain beside aggressively taking out drug de-addiction drives, organizing motivational seminars and ensuring that rehabilitation centres are functioning properly.