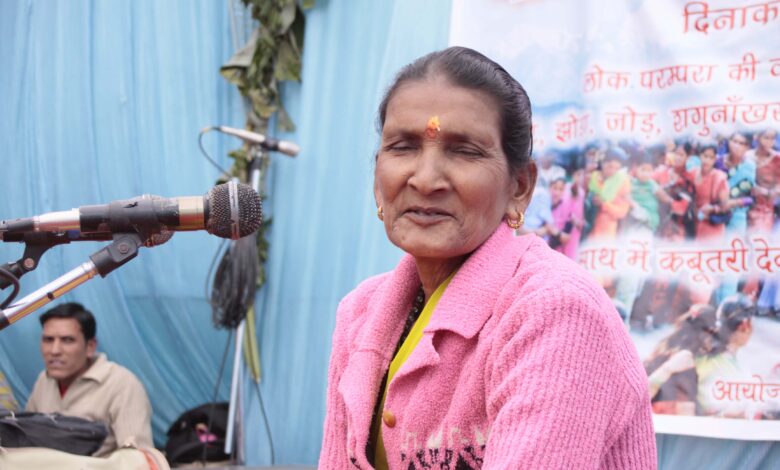 Book on 'Reshma of hills' Kabootari Devi to be published soon
B.D.Kasniyal
Pithoragarh, April 11
A book on legendry folk singer late Kabootari Devi,known as 'Reshma of the Hills'  is to come out by July this year. The book is being published by Indira Gandhi National Center of Arts, New Delhi,(IGNCA) which was established by former Prime Minister Rajiv Gandhi in the memory of late Prime Minister Indira Gandhi,  in the year 1985. It is a premier government funded arts organisation in India.
Born in the year 1945 in a family of Auji, community in a village in Champawat district, Kabootari Devi learnt folk music from early childhood. She  was married to Diwani Ram of Quarar village of Pithoragarh district. She died on July 7, 2018 in Pithoragarh district hospital.
"We have done over 70 percent work on the book, and the remaining work on the memories of some leading writers of Uttarakhand of the late singer is being done," said Laxmi Rawat, from the IGNCA.
Laxmi Rawat had visited the native place of Kabootari Devi  and met her relatives in the first week of April, to give final touch to the book."We have very limited information on works and struggle of Kabootari Devi, as the arts lovers and journalist had not worked on her since the time she remained unknown, " she said.
The book will contain rare photographs of Kabootari Devi, folk songs sung by her in Radio stations and in other programs along with her struggle of survival.
" She was the folk singer, who not only developed a different and unique style of singing Kumaoni songs but also struggled hard to survive by doing hard labour as a labourer  after her husband died years ago," said the IGNCA official.
'Aile Pani jhun, jhun, bhol Pani jhun jhun, porkhee ta nyha ju la, estation mei pugai de meila, phiri birana hoi ju la,'( the married daughter who has come to her parents home and had to go to her in laws, says to her parents that if she has to go today or  tomorrow, after she will be seen off from station, she will become alien to her parents.) is her famous song sung  at radios stations several times."When she used to sing, her words, tunes and expression used to reflect  the feelings, that used to ease the hard struggle of hill  women in bygone era," said Hemraj Singh Bisht, head of a cultural NGO in Pithoragarh, who publicly  introduced Kabootari Devi in the year 2006, before audience in Nainital.
This writer had also interviewed Kabootari Devi in the year 1999, at her residence in Quarar village of Pithoragarh district." After my husband Diwani Ram alias Netaji, died in the year 1980, I have stopped going out of my village and remain here and survive on the gifts and food given by villagers at various auspicious occasions, she had said.
Kabootari had told the writer in that interview that it was her husband Diwani Ram, who after the marriage, taken her to various Akashvani centers at Najibabad, Lucknow and Mumbai for voice tests and later for singing of folk songs.
"She had an original style of singing Kumaoni folk songs. She not only sang folk songs but also çlassics and Thumri," IGNCA official Laxmi Rawat said.
Asked by this correspondent, why she did not sang for the cassette companies of that time, Kabootari Devi had said that prevalent Kumaoni cassette songs does not fit in folk classics of Kumaon traditional songs."I would not like to give up my style to  fit for the needs of cassette companies that  does not represent traditional Kumaoni folk traditions ," Kabootari Devi had said.