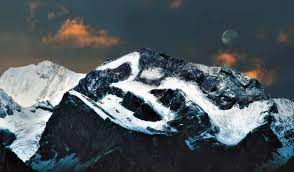 Unseasonal snowfall cast doubt on start of 'Adi Kailash' and 'Om Parvat yatra'
B.D.Kasniyal
Pithoragarh, May 2
The unseasonal snowfall and incessant rainfall in entire Himalayan region has casted doubt on the start of the Adi Kailash yatra which was supposed to start from May 4. The Nigam officials have expressed concern over unseasonal snowfall and rains in the entire Himalayan region bringing normal life to a halt with the accumulation of snow in the higher region of Yatra  route.the weathermen have predicted snowfall and rains in the region due to an intense western disturbance till May 3.
" As the Jolingkong area on 'Adi Kailash' route is full of snow presently and getting daily snowfall, it will be of concern to start the yatra on time due to inclement weather and snow enroute," said Dhan Singh Bisht, incharge of TRC at Dharchula camp.
Pilgrims visiting  'Adi Kailash'  and 'Om Parvat' mountains in Vyans valley of Pithoragarh district on indo-China border will be offered local 'Pahari' cuisines and local cultural hospitality by Kumaon Mandal Vikas Nigam (KMVN), the nodal government agency which is running the pilgrimage.
"Besides mainstream Indian cuisine and south Indian delicacies like Idli, the pilgrims will be offered local dishes like,'Bhat ki churkani', 'Gahat ke dubke', 'Jhangore ki kheer' and 'Pahari Rayta', at Tourists reception centers of the nodal agency," said Dinesh Gururani, in charge of TRC at Pithoragarh.
"A total of 152 pilgrims have registered online for the 'Adi Kailash yatra'  this year which starts from May 4," said Gururani.
The 'Adi Kailash' pilgrimage , that is beginning on May 4th, will stay at Pithoragarh, Dharchula, Gunji (2nights) Bundi, Chaukori and Bhimtal during the eight  days of yatra for a group. "We are trying to establish the 'Adi Kailash yatra' as an alternate to 'Mount Kailash yatra' in Tibet, as the 'Adi Kailash' peak is also considered by locals as original home of Lord Shiva," said Gururani.