Unseasonal snowfall adversely affect 'Desi Viagra' collection
B.D.Kasniyal
Pithoragarh, April 29
Due to unseasonal snowfall in the higher reaches of Himalayas, more than  3000 villagers of 30 villages situated close to the Johar and Darma valleys of Pithoragarh district bordering China and Nepal, engaged in the trade of collecting 'Yarsagumba', (cordyceps), a caterpillar fungus known for its' aphrodisiac qualities and also called "Desi Viagra"  or 'Keeda Jari' are unable to go to the higher Himalayan meadows where this fungus is found after the snow melts. This year due to unseasonal snowfall the meadows are fully covered under snow.
"The season of collecting "Yarsagumba" used to begin from March 15 till June 15,every year after snow deposits in high altitude meadows at heights from 9000 to 14000 feet,used to melt, but this year despite 42 days past the season, the villagers could not go to the meadows to collect "Yarsagumba" due to heavy snow there," said Tej Singh, Sarpanch of Golpha village of Munsiyari, who is waiting the snow to melt.
"Due to snowfall  for nine times during the last 26 days of this month alone, the meadows  are under 2 to 5 feet snow, which is unlikely to melt in near future as the weather conditions are not hot for the snow to melt ," said Tej Singh.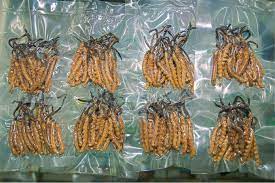 The herb is brown in colour and can be up to two inches in length. It is found exclusively in the Himalayan regions — mainly in Indian Himalayas and Qinghai-Tibetan plateau in southwestern China — and grows at higher altitudes of 3000-5000 metres.
Over 3000 villagers of 30 villages, near high Himalayan meadows earn their livelihood out of collecting the caterpillar fungus every year from past 30 years."These villagers, after spending hard life in cold terrains for 90 days, collect almost 90kg to 150 kg of "Yarsagumba" (keera Jari) that fetches at a cost of Rs 15 to Rs.20 lakh per kilogram in international market," said Puran Pandey, a hotelier in Munsiyari town.
"If the season remain such hostile in the coming months, the villagers will have to face losses of crores of rupees as the herb decays on reaching monsoon season," said Tej Singh.