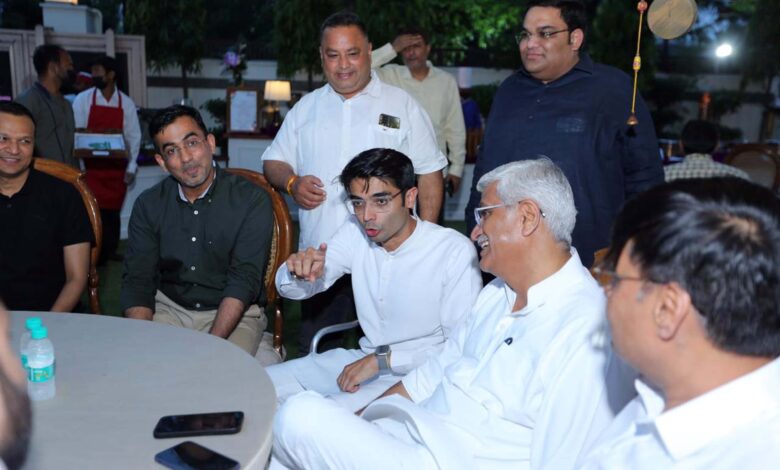 Industrial honchos from Jalandhar meets Shekhawat at BJP National Spokesperson Jaiveer Shergill's residence
Jalandhar, May 5
Union Jal Shakti Minister Gajendra Singh Shekhawat met a group of top industrialists of Jalandhar, here yesterday evening. During an informal meeting between Shekhawat and industrialists held at the residence of BJP National Spokesperson Jaiveer Shergill, various issues pertaining to the industrial sector were discussed in detail. During their interaction, the industrialists gave feedback to the Union Minister about the present industrial scenario in Punjab. The industrialists also apprised Shekhawat about various problems being faced by them under the AAP regime. The industrialists told the minister that no heed is being paid by the present dispensation in Punjab to resolve genuine issues concerning industry because of which they are facing huge losses.
The industrial honchos from the different industries, including sports, hand tool, leather etc, shared their valuable suggestions with Shekhawat for the betterment of the industry. The representatives of the industrial community told the minister about various steps that could be taken to help flourish the industry. Expressing their serious concern over the ever "worsening law and order" situation in Punjab, the industrialists informed Shekhawat that the manner in which incidents of murders, ransom killings, loot, extortion, gang wars etc are being reported in Punjab on frequent basis, have sent a wave of terror among the industrial sector, which is already ready passing through a bad phase. They also told Shekhawat about plans of industry to migrate to other states in case things do not improve.
After listening to all the suggestions and taking complete feedback from the industrialists, Shekhawat assured the industrialists of all possible assistance from the Union government. "The Union Government is committed to the development and progress of the industry. Already, under the steward leadership of Prime Minister Narendra Modi, several measures have been taken to give impetus to the industry. In future, other necessary steps, which need to be taken up at the level of the Union Government, would also be initiated, so that industry thrives in Punjab", asserted Shekhawat. The meeting was also attended by Punjab BJP President Ashwani Sharma.