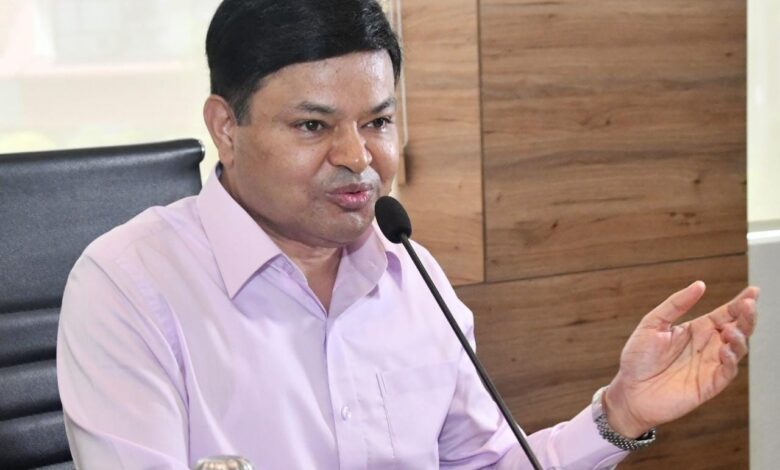 Graphic Era University to facilitate higher studies of students abroad, to open centres in hills to help farmers
Dehradun, May 15 Graphic Era University has made it easy for its students to pursue their higher studies from universities in the US, France and UK. For this, Graphic Era university has collaborated with several leading international universities. Besides there foreign collaborations, Graphic Era group of institutions has also announced to help farmers by opening its centres in the hilly and remote regions of Uttarakhand.
Addressing a press conference, here today, President, Graphic Era Group of Institutions, Dr Kamal Ghanshala, said that the group has signed  an agreement with The University of Illinois, Chicago, USA. Any student of Graphic Era University can do his or her masters degree from The University of Ilinois after completing three academic years here. As per the MoU, these students will get masters from The University of Illinois after studying there for only two years. The students will go through no separate admission process for this. The MoU covers engineering students from Mechanical, Computer Science and Civil streams. The University of Illinois is on the 251-300 rank band of world university rankings.
Dr Ghanshala added that another MoU has been signed with the Polytech Nantes University in France that would  help CSE, ME and ECE students to study there for a year. A similar agreement has been done with The University of Plymouth, UK, for students from various branches of  B.Tech as well as those doing BBA, BCA, BSc ( IT), MBA, MSc (IT) and MCA from Graphic Era University.
More such MoUs have also been signed with Rennes School of Business, France, The University of Ferrara, Italy and The University of Kwazulu, Africa. These would facilitate students to pursue their MBA, MHM, BBA, BHM and B.Com in these universities for a year. An agreement has also been done with Vilnius Tech of Lithuania for our Bio-tech students.
Dr  Ghanshala said that agreements have been signed for semester exchange, internships, faculty exchange and project with universities in US, UK, France, Saudi Arabia, Germany, Russia, Spain, Brazil, Vietnam, Sweden and Philippines.
While mentioning some of the recent achievements of Graphic Era University, he said that more than 40 students of Graphic Era University have cleared GATE exam this year. A B.Tech CS student of Graphic Era Hill University, Himanshu Devrani, from Kotdwar secured 25th rank in the country in the GATE exam, 2023.  Five students have cleared the GATE exam in the third year of B.Tech itself. A total of 20 B.Tech students have  passed the GATE exam this year. A B.Tech ECE student of GEU, Abhishek Semwal, has secured 93rd rank in GATE in the country.
A total of 41 B. Tech, Computer Science  students of Graphic Era University have been selected for MS in foreign countries. There are several students who have been selected for admission by more than one prestigious universities. Tejasvi Ghanshala, a B.Tech CSE student  has been selected for doing his MS from The University of California, Irvine, The University of California, Riverside, The University of Arizona, Florida State University and The University of Texas at Arlington .
Seven B.Tech Computer Science of GEHU have been selected for pursuing their MS from The University of Queensland, Australia, which figures in the list of top 50 universities in the world.
About the prevailing condition of floriculture and agriculture in remote mountainous areas of Uttarakhand, Dr Ghanshala showed his concerns about a large produce n of sweet oranges and apples grown going waste every year, as farmers could not  send them to market places downhill. He said that If such farmers are taught skills to process these fruits and other crops into products, they can make a lot of profit. Graphic Era University will soon come up with centers in mountainous regions for this, he announced .
Dr Narpinder Singh, Vice-chancellor, Graphic Era University  and one of the country's top agriculture and food technology scientist, apprised about some of the latest technological strategies to be used by farmers.