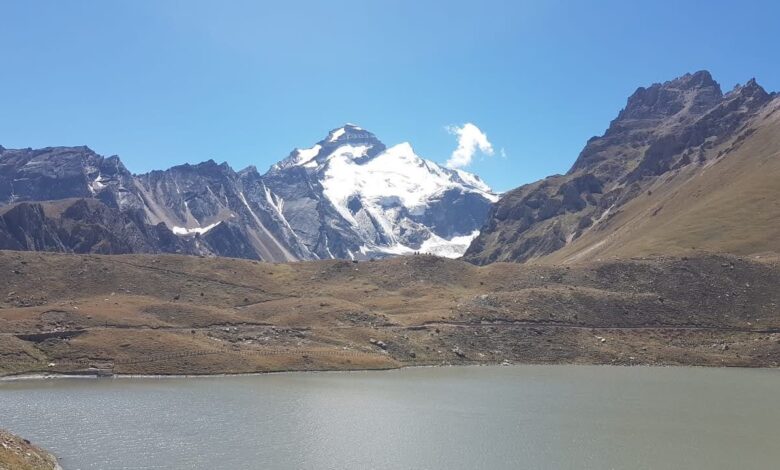 With improved weather and road conditions, 'Adi Kailash yatra' picking up
B.D.Kasniyal
Pithoragarh, May 20
With rising temperatures resulting in the melting of snow accumulated following unseasonal snowfall and rain in the higher Himalayan region  in the past fortnight, the 'Adi Kailash yatra' which suffered initially due to inclement weather has again started picking up again. With clear weather and melting of snow enroute, the number of pilgrims have started increasing from seventh batch according to officials of Kumoan Mandal Vikas Nigam, a government agency running the yatra  at base camp Dharchula.
"The Yatra this year has started with 19 pilgrims, in the first 2 batches, but the number dropped to only  eleven pilgrims in next batches with only two pilgrims in the sixth batch. But due to removal of snow from the way towards Jolingkong towards the sacred 'Adi Kailash' peak, the number of pilgrims has gone up to  34 in the seventh batch," said Dhan Singh, incharge of base camp of Yatra at Dharchula.
The booking of pilgrims for the yatra has also increased after the news spread that over 30 pilgrims of  three batches of 3rd, 4th and 5th batches could have 'Darshan' of 'Adi Kailash' peak after the snow on the way to the peak was removed by Border Roads Organisation (BRO).
" The 'Adi Kailash yatra', that started on May 4this year, will continue till  July 15,  and later with the start of monsoon period depending on the weather and road conditions till November 15. We expect to host over 600 pilgrims of 20 batches," said the KMVN base camp officials.
Meanwhile, the residents of Vyans valley, who depend for their livelihood on the yatra have expressed unhappiness at the decision of the administration to run the yatra only for three days in a week, while giving  four days to BRO for black surfacing work of the road on 43 km long patch from Gunji to 'Adi Kailash peak.
"As we depend on only this yatra for our livelihood, we want more days be allowed to run the yatra," said Sanam Singh Gunjiyal, a taxi owner who runs on Dharchula to Gunji route during Yatra session.
"We will have to give traffic free road to BRO as they have to complete the black surfacing work on the road in a fixed time frame, "said Divesh Shashni, Sub-Divisional Magistrate (SDM) of Dharchula.