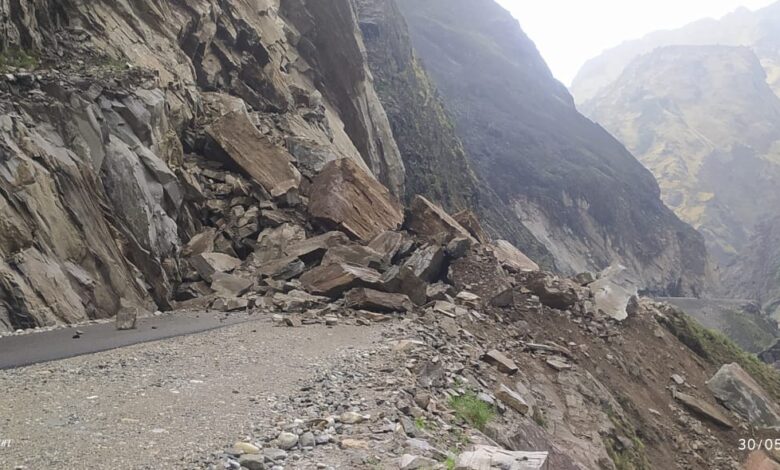 'Adi Kailash yatra' suspended following landslide at Najang
B.D.Kasniyal
Pithoragarh, May 31
More than 400 'Adi Kailash' pilgrims were stranded enroute to Gunji from Dharchula base camp after a massive landslides occurred at Najang spot, 45 km from Dharchula, according to officials .
"Over 100 meters of road portion has been washed out in a massive landslide that occurred at 5 pm on May 30. The restoration work of road will take few days  and by then the 'Adi Kailash' yatra stand suspended," said Dhan Singh Bisht, in charge of base camp of Kumona Mandal Vikas Nigam (KMVN).
According to Bisht, while 150 pilgrims are waiting at Dharchula base camp, over 200 pilgrims have been stranded at Gunji, Bundi and other spots."It is second time in 24 hours time that the landslide occurred at Najang," said Dhan Singh.
The 'Adi Kailash yatra', that started on May 4th this year, is being run by private agencies and Kumaon Mandal Vikas Nigam (KMVN), simultaneously, while Nigam has only 20 members in the 10th batch on way to 'Om Parvat' today, rest of over 280 pilgrims are being managed by private tour operators.
" We have all arrangements for pilgrims at high altitude spots, if they get stranded there, the private agencies have their own arrangements," said the Nigam officer.
'Adi Kailash yatra' is being promoted by KMVN in place of 'Kailash Mansarowar Yatra' in Tibet that has not been resumed from last 4 years, after COVID pandemic.