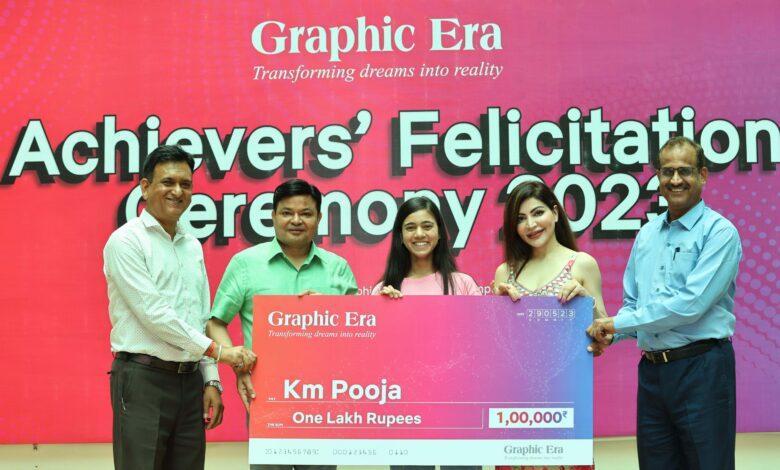 Graphic Era University honour its' students getting best placements and higher GATE scores
Dehradun, May 29
Graphic Era University honoured  it's students and their parents who created a new record by getting placements up to Rs 84.88 lakh per annum this year at a function held here today. Such students were given cash prizes up to one lakh rupees.
These students and parents were felicitated at a function organized at Graphic Era Deemed University which included students of the year 2023 batch of B,Tech of Graphic Era Deemed University and Graphic Era Hill University.
Dr. Kamal Ghanshala, Chairman, Graphic Era Group of Institutions, said that in time of recession, when all the companies of the world are doing layoffs, the students of Graphic Era have proved their talent by getting such huge packages. .
He further said that in times of recession, companies are hiring very few new comers but world's leading companies like Amazon, Adobe have put their stamp on Graphic Era's level of education, use of state-of-the-art technologies and talent of students by placing them on higher packages. He said that Graphic Era incorporates new technologies in its training by assessing the needs of the future industry very seriously. The result of this is that whether it is the era of Covid or recession, the students here have remained the first choice of the corporate world.
During the event, Pooja, a 2023 batch student of Computer Science Engineering of Graphic Era Hill University, received a placement offer of Rs 84.88 lakh from Australia's prestigious software company Atlassian, was given a prize of Rs one lakh. Manav Gupta of the same university, got a package of Rs 56 lakh in Deutsche Bank-Germany, got a prize of Rs 75 thousand. Puja's father Jai Singh, a resident of Ghena village in Saklana area of Tehri Garhwal district, is a contractor. Pooja gave credit to her parents as well as Graphic Era and especially to Dr. Kamal Ghanshala for her success. She  said that the environment of Graphic Era inspires to move forward and do something new as even  Chairman- Dr. Kamal Ghanshala himself takes classes and explains difficult subjects in a very easy and interesting manner to retain the focus of the students.
Aditi Mittal (Delhi), B.Tech CS student of Graphic Era Deemed University,  got a package of Rs 49.18 lakh in Adobe and Ayushi Kathait (Dehradun), four B.Tech CS students of Graphic Era Deemed University, got a package of Rs 45.64 lakh in Amazon , Rishika Kesarwani (Meerut), Shreya Sharma (Paonta Sahib, Himachal) and Anushka Agarwal (Lucknow) were given prizes of Rs 50,000 each. Himanshu  Devrani of Graphic Era Hill, who secured 25th rank in the country in GATE exam, was awarded Rs.1 lakh and Abhishesh Semwal of Graphic Era Deemed University, who secured 93rd rank, was awarded Rs.50,000. Rakhi Ghanshala, Vice-Chairperson, Graphic Era Group of Institutions, Dr. Sanjay Jasola, Vice-Chancellor, Graphic Era Hill University and Dr. Rakesh Sharma were also present on the occasion.
Along with these the students who got excellent placements Abhishek Dobliyal, Dipanshu Pandey, Ashee Rawat, Shivansh Joshi, Shreya Nawani, Diksha Bisht, Monika Chauhan, Shubhi Joshi, Tanisha Singhal, Ashutosh Dhyani, Akarshan Chauhan, Amanpreet Singh Bedi, Ashutosh Vyas, Akshita Singhal, Ayush Kashyap, Aditya Rawat, Malak Abbas, Snigdha Bharadwaj, Kanupriya, Anusha Gairola, Apritam Tripathi, Pushkar Jain, Gaurav Tiwari and Kumar Harsh were also felicitated with the cash award. The ceremony was celebrated by cutting a huge cake.
More than 3950 students who have been placed so far in this session include students from all courses including BBA, BCA, B.Com (Hons), B.Pharma, Mass Communication, Fashion, Agriculture, Fine Arts, BA (Hons), Hotel Management. The students of Bhimtal and Haldwani campus have also not lagged behind in placements. Among the world's famous companies that have placements from Graphic Era University this year are Atlassian – Australia, Deutsche Bank – Germany, Service Now – California, ShareChat, Morgan Stanley – America, Goldman Sachs – New York, G Scalar – California, American Express, Lewis – America , Informatica- America, Teradata- America, Procol-, Jaspe, Dock Plix, Siemens- Germany have placed students from various courses including B.Tech, MCA and MBA.
Reputed companies Google, Amazon, Adobe, Flipkart, Infosys, TCS, Cognizant, KPMG, Deloitte, Ashok Leyland, Asian Paints, Cummins, Media.net, Uber, Inquiro Global, Cape Gemini, Godrej, HCL, HSBC, JSW, E&Y, LNT Mind Tree, TVS, Mankind Pharma, NatWest Bank, PwC, Salesforce, Tele, Uno Minda have also recruited students from Graphic Era University.