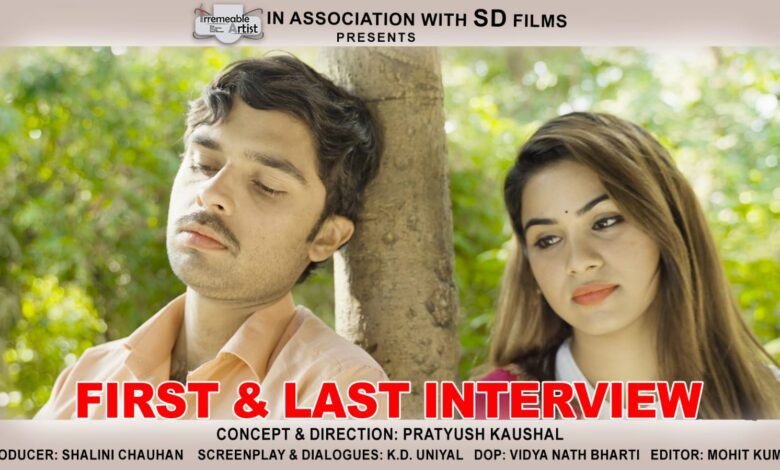 Film "First and Last Interview" getting recognition
Dehradun , June 4
A remarkable short film of a Doon-based creative team, "First and Last Interview", is being well received in many national and international film festivals.
This film explores the life of a lower middle-class child who was born a talented actor. Although he loved to act, many members of his local community interpreted his love for acting as madness. The film follows his journey and struggle and as he grows into an adult and achieves success in his field.
"First and Last Interview" is directed and conceptualized by Pratyush Kaushal,while Aditya Nath Singh is the associate director. K.D. Uniyal supported the screenplay, writing and is the creative producer. An actor and director, he has been a part of various stage play performances, street play performances and theatre workshops at National School of Drama (NSD). He has also directed six short films.
Vidya Nath Bharti is the photographer who is an alumnus of the renowned FTII ( Film and Television Institute of India) Pune. Many of his previous short films have received many awards in the top festivals of all over the world.
Recently, this film was officially selected for the prestigious 13th Pune Short Film Festival 2023. Previously this film received a special jury award for best debut short film and best concept at the Rohip International Film Festival. Additionally, the 2023 Athvikvaruni International Film Festival gave "First and Last Interview" a special jury award for best debut short film.
All the actors and actresses in this film are Dehradun based. The lead roles in this film are played by the actors – Pradeep Sharma,Om Singh, Priyansh Gupta, Pratyush Kaushal, Akanksha Kohli.