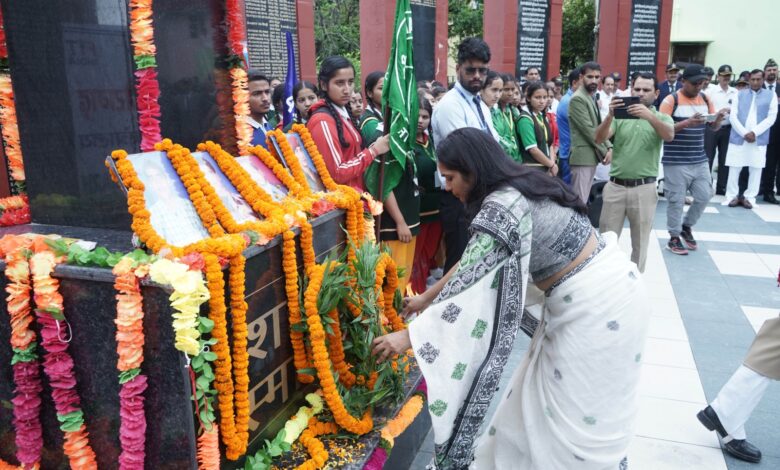 Kargil martyrs remembered
B.D.Kasniyal
Pithoragarh, July 26
Kargil Martyrs Day ( July 26, 2023) was celebrated  to pay tributes to the heroism  and sacrifices of the Indian soldiers who won the Kargil conflict with Pakistan in 1999 at a commemoration function held at Shahid Vatika near Chandak hill here today.
"Four brave soldiers from this border district, out of a total of 527 from the country and 74 from the state of Uttrakhand, were declared Kargil martyrs by the government of India for their unparallel sacrifices to evict the intruders from Kargil heights of Ladakh in J&K  in 1999 and we have gathered here to pay homage to their dauntless courage ," said C.B. Pun, District Ex-servicemen Welfare Officer,Pithoragarh.
"District Magistrate Reena Joshi, Zila Panchayat chairperson Deepika, Didihat MLA Bishan Singh Chufal were amongst those who laid wreaths at Sahihd Smarak, situated at Ulka Devi campus of Pithoragarh district," said C.B. Pun.
Four soldiers namely, Johar Singh, Kishan Singh, Girish Singh and Kundan Singh, from Pithoragarh district laid down their lives in Kargil war with Pakistan in the year 1999, " said the ex servicemen welfare officer.
The Kagil war, that was fought to flush out Pakistani intruders from Kargil hills, was fought between May 3, to July 26, 1999." A total of 12 Indian regiments took part in that war that was fought at the heights of 16000 feet in the hills at less than 0 degree Celsius temperatures. The Indian soldiers proved their commitment to nation by flushing out the enemy in 76 days time," said  Lt Gen Mohan Chandra Bhandari( retd), a Kargil hero.
"Initially the operation seemed difficult as the enemy was sitting up on the peaks and we had to ascend from ground to flush them, but the sacrifice of Major Rajesh Adhikari, of 18 Grenadiers, filled the army with confidence.Rajesh Adhikari, who was ordered to flush out enemies from Tololing  hill in Drass sector, accomplished his task but sacrificed  his life, " recalled Lt.Gen. Mohan Bhandari (retd).
The second biggest challenge was to flush out enemies from Tiger Hills. The  task of gathering intelligence of enemy was given to rifleman Dilip Singh Negi of Garhwal Rifles, who succeeded in his mission despite been badly injured during his work enabling 18 Grenadiers to capture Tiger hills." Over 11 braves of Garhwal regiment, sacrifices their lives in capturing  point 4700 of Jubar hills in Batallick sector," said Bhandari.
"In order to capture peak no 5140, of Kargil sector successfully, Riflemen Dauble Singh and Mangal Singh of  18 Garhwal Regiment, killed 98 enemy soldiers and sacrificed their lives after reaching the target, " the Kargil hero said.
"Major Vivek Gupta, another army officer from Dehradun  sacrificed his life with 26 of his comrades in capture of Saddal hill and  peak no 4590. He fought face to face  with enemy, who were  armed with modern weaponry at the peak," said the General.
The Kargil hero remembers that the sacrifice of a jawan of 18 Garhwal Rifles, recently married then, cannot be forgotten as he along with 11 other jawans sacrificed their lives at Muskoh sector enabling the following  troops to capture Tiger hill.
Girish Singh Samant, of 9 Para Regiment, was an ace mountaineer, a  paratrooper,  from Pithoragarh district, who captured Julo -1, peak at the concluding days of 'Operation Vijay'. "Girish Singh and his fellow soldiers fought for three days to flush out enemy from the peak. On reaching the peak, he sacrificed his life after killing 15 enemy soldiers when  his team was suddenly attacked by enemy at Julo -1 peak on July 25th, 1999," said Bhandari.
Jawahar Singh Dhami  of 2 J&K Rifles, also from Pithoragarh was among first patrolling units who had gone to patrol Kargil sector in the first week of May. "When the  patrol team being led by Dhami, was attacked by enemy when they passed through the area under enemy intrusion."In smooth retaliation this brave soldier received 48 bullets and was amongst the first troops who let the country know about enemy penetration into indian territory," said Lt. Gen. Mohan Bhandari (retd).