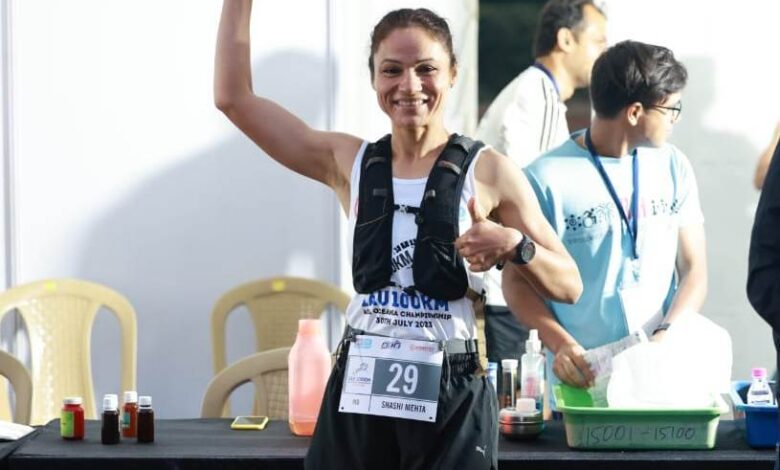 Doon Ultra runner Major Shashi Mehta clocks second best 100 km timing by an Indian women in India, ranked sixth in Asia Oceania Championship 2023
Dehradun , July 31
Major Shashi Mehta, an Ultra runner from Dehradun ranked sixth amongst the 16 women participants in the 100km Asia Oceania Championship 2023 held in Bangalore on July30,  2023. She finished her 100 km race in 8 hours 52 minutes. It was second best 100km timing of all times, by an Indian female on Indian soil.
It was the best personal timing for Major Shashi Mehta, a NCC officer. It was only her second 100 km race as she had only done it once in 2022 clocking a timing of 10 hours and 29 minutes. It was a tremendous improvement of her own record which she attributed to her coach and mentor Sravan Kumar.
In the women's section, the Indian team suffered an unexpected setback when their top runner Jyoti Gawate (she holds the national record for women in 100 km – 8hours and 20 minutes  was forced to pull out of race due to severe cramps. Jyoti completed 16 laps before deciding to discontinue due to her situation. Coming into the race, Jyoti had the sixth best personal timing in 100km among the gathered women athletes.
On Sunday, the fastest Indian woman to complete the 100km race was Major Shashi Mehta (8:52:38) followed by Gunjan Khurana (10:24:50). The race was held on a five kilometre-loop with a successful completion entailing 20 laps of the circuit. Unfortunately, the Indian women couldn't deliver three successful completions from their ranks, to be considered for the team championship, as per Major Shashi Mehta .