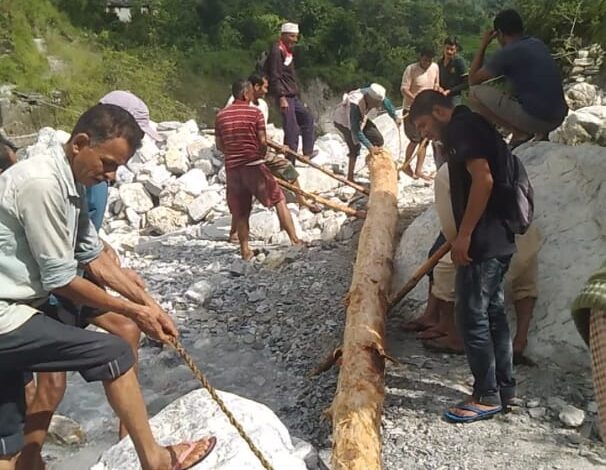 Villagers decide not to depend on govt.,construct washed away bridge on their own
B.D.Kasniyal Pithoragarh, Aug 14 The villagers of 3 villages of nemely Kaparoli, Talla Bhaiskot, and Basani, in Nachni region of Munsiyari sub division of the district, have decided to take to voluntary labour and effort to construct the key wooden bridge that swept away 3 days ago in flooded Nullah following heavy rains in the area.
"We can not depend on delayed functioning of administration or government for construction of bridge, and villagers have decided to take to Shramdan(volunteerery labour) to construct the bridge as soon as possible."said Prema Devi, Gram Pradhan of Basani village.
According to villagers, after washing away of wooden bridge linking these villages to outside world, neither the school children could go to schools nor the villagers to their paddy fields."all our fields specially paddy fields are situated across the Nullah, in absence of bridge we can not go to their for collection of grass or attend cultivated crops."said Chandrabhanu Joshi, a senior special worker in Nachni area.
"We will have to become engineers labourers and technicians to construct the bridge, and will have to follow tradition of our forefathers, who used to reconstruct bridges near villages in monsoon time and did never waited for government help as it never came in time."said Prema Devi. The gram Pradhan.