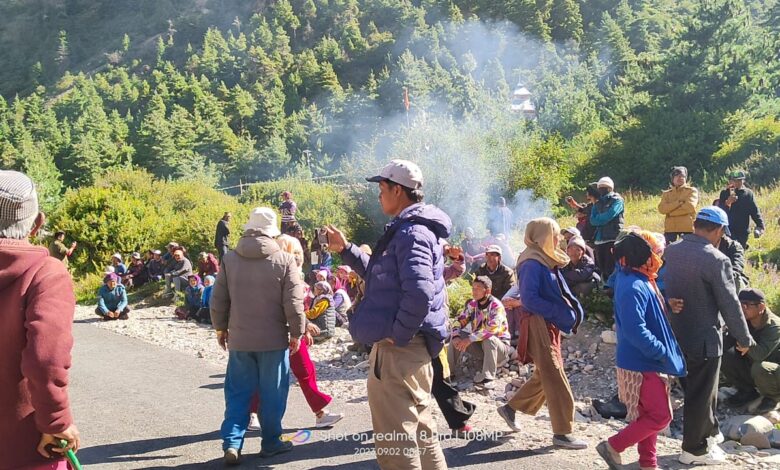 Rung community protest against denial of employment opportunities by BRO officials
B.D.Kasniyal
Pithoragarh, Sept 4
Demanding appointment of local villagers as labourers in the road projects of Border Roads Organisation (BRO) running in border region and seeking an apology from a BRO officer, the Rung community villagers today held a procession in Gunji village. .
"The BRO officers hade allegedly expelled local villagers from their working gangs and instead given job to workers from outside hill region. When we went to meet the concerned officer on September 2, the officer humiliated our delegation members and hurt our feelings," charged Ashok Nabiyal, a member of community and former chairperson of Dharchula Nagar Palika
According to Nabiyal, the local villagers of Gunji, Nabhi, Napalchu, Rongkong and Kuti,are dependent on working in BRO roads as labourers." On one side, the Government of India has declared the village of Gunji as vibrant village for overall development while the RO is snatching our employment," alleged Nabiyal.
Dharchula SDM Devesh Shasni has said that the dispute between villagers and BRO started out of misunderstanding by both the parties." We have called top BRO officers, local village elders and local administrative officers and it seems the misunderstanding will be sorted out today," hoped  the SDM
BRO is constructing several roads in  this part of Indo-China border and most of the local villagers earn their livelihood by working in these road projects."After finishing of Indo-China trade in 1962, we have no livelihood except working in border projects. We demand interference from Government of India to make it essential to give employment to local villagers in border road projects and post sensitive officers to these areas, who could understand problems of local villagers," said Sanam Nabiyal, Gram Pradhan of Nabi village .