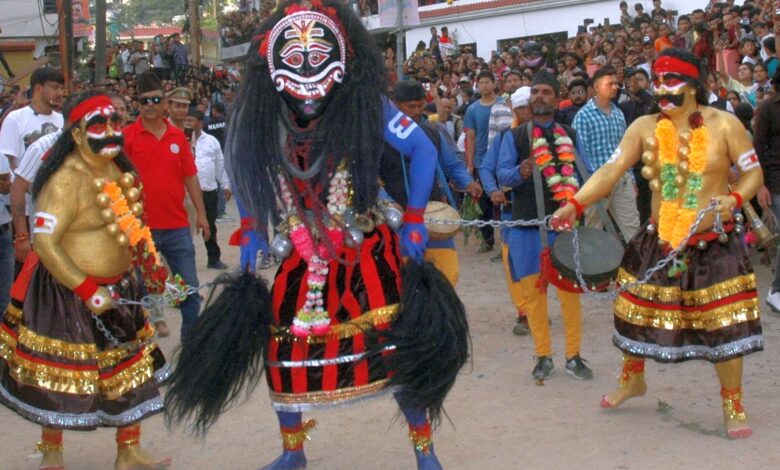 Thousands arrive to participate in 'Hilljatra' festival
B.D.Kasniyal
Pithoragarh, Sept 4
Nearly ten thousand devotees have reached Kumaur village in Pithoragarh distreict of Uttarakhand to participate and celebrate 'Hilljatra', the only mask festival of the state, to be held on September 6, 2023.
According to villagers of Kumaur, the festival was started some 500 years ago in their village, after their ancestors were granted permission by Nepal King to celebrate the festival of 'Hilljatra' with masks in their village." The name of this 'Jatra' is 'Hill' (known as mud in local kumaoni dialect,) Jatra or yatra as our ancestors used to grow paddy crop in muddy fields of Soor valley," said Govind Singh Mahar, one of the organiser of the festival.
"In this ancient folk theatre dance, artists wear vividly coloured masks to depict, characters of ancient agrarian society of this region," said Hemraj Bisht, a folk theatre personality in Pithoragarh district.
"The presentation and depiction of the festival resembles with 'Indrajatra' festival of Nepal, that is also celebrated in the months of September in Kathmandu valley by Newari community, the original inhabitants of Kathmandu valley," Hemraj Bisht added.
Besides depiction of agrarian rituals of ancient era, the festival is well known for depiction of 'Lakhia Bhoot' (Demon), the demon venerated as deity and  known as a form of Lord Shiva, the god of Himalayan communities.
"We worship Lakhiya as Birbhadra, the commander of Lord Shiva, who was created by the Lord himself to destroy the 'Yagna' of Prajapati Daksha, when the Lord's spouse died there on been neglected by Daksha, her father," said Govind Singh Mahar.
"The 'Lakhiya' is awakened in the body of a devotee with the playing of traditional musical instruments. Thereafter the demon god is venerated by crowds  to seek his blessings for good crop and wellbeing of the people," said P.D. Pant, a cultural historian of Soor valley of Pithoragarh district.
"While 'Indrajatra' is celebrated  in Kathmandu valley, to remember Lord Indra, who once came to earth in search of night Jasmin flowers needed for his mother for worship. Lakhe or Lakhiya is worshiped on 4th day of 8 days long 'Indrajatra' despite been a demon, as he is believed to protect the village folks from other fatal demons," said Pant.
The 'Indrajatra' in Kathmandu valley is considered to have started  from 10th century.
The villagers of Kumaur, said that the permission to celebrate 'Hilljatra' was granted to their ancestors some 500 years ago by one of the Nepal kings of Kathmandu, who had invited them to Kathmandu to witness 'Indrajatra' festival there."The king became pleased when our ancestors successfully sacrificed a bended horned buffalow, that used to be sacrificed before the start of 'Indrajatra' festival in Kathmandu," said Govind Singh Mahar.
The festival, celebrated on 8th day of festival of 'Gaura', depicts masked men depicting faces of ancient agrarian society of the region including the pairs of bull, ploughing ox with farmer, lazy oxes and group of women and seed planters. " Besides these the festival also depicts  some skits  for hard working farmers as the Hukka smoking old man and 'Hiran' cheetal  (deer and spotted deer ) dwelling surrounding the paddy planting women, "said Yashwant Singh Mahar, another organiser of the festival this year.
According to Mahar, since their ancestors were the first cultivators of Soor valley, that is why it started in their village first and later taken by other agrarian communities of the valley.