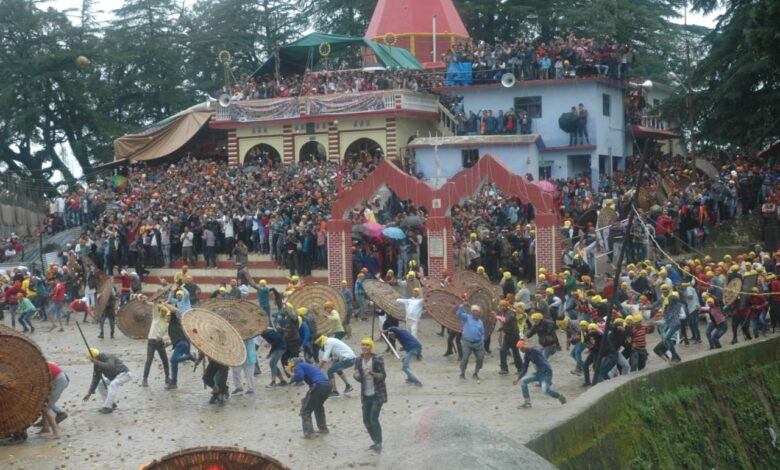 More than 120 devotees injured in 'Bagwal' at Goddess Barahi temple in Champawat
B.D.Kasniyal
Pithoragarh, Aug 31
More than 120 persons were Injured including two of them seriously in the  traditional festival of 'Bagwal', played at Kholikhand Dubachaur ground of Barahi Devi temple at Devidhura in Champawat district for seven minutes today. During the festival, two groups of villagers throw stones at each other, while they try to protect themselves with the help of large wooden shields.
"The 'Bagwal' began at 2.14 pm and continues till 2.20 pm officially, but it continued for next three minutes after been stooped officially," said Girija Joshi, District Information Officer, Champawat.
Uttarakhand Chief Minister Pushkar Singh Dhami and former Maharastra Governor  Bhagat Singh Kosiyari and several other dignitaries were present  during the  festival.
"The 'Bagwal' nowadays  is played with fruits and vegetables as per the Nainital High Court order instead of stones for 15 minutes. But the injuries were caused as some players might have hidden stones below fruits boxes," aid Navnit Pandey, District Magistrate,Champawat
Asked how the people became injured if 'Bagwal' was played with fruits and vegetables following court orders of 2013, the officials said that some devotees might have hidden stones beneath fruit boxes.
The 'Bagwal', is played on the day of festival of 'Raksha Bandhan', or 'Shrawani Purnima' as per Hindu calendar, every year. It has been the traditional belief that the stones are to be pelted on each other till blood equal to in a human body is shed."The tradition that began with human sacrifice to please the Goddess Barahi, turned into blood shedding stone war as the Goddess herself instructed it's devotees to do so in ancient time, " claimed d Mohan Singh, president of Temple committee of Barahi temple.
"The 'Bagwal', that used to be played with stones till 2012, is being played with fruits after a high court order in 2013 which banned stone pelting," said the temple committee president.
According to temple priest Kriti Ballabh Joshi, a total of 11 quintals of peas and apple fruits were used in today's 'Bagwal'.
Four main clans of local Thakur Rajputs , namely Lamgaria, Gaharwal, Balig and Chamyal, take part in this stone war, who are believed to be the original inhabitants of the area, situated surrounding the Barahi temple."The fighters take 48 hours purity of food and conduct, before taking part in the traditional battle and remain respectful towards rival groups after completion of 'Bagwal'," said the Temple priest.
Champawat Chief Medical Officer (CMO) Dr KK Aggarwal said that he has referred three seriously injured persons to higher centers for treatment.