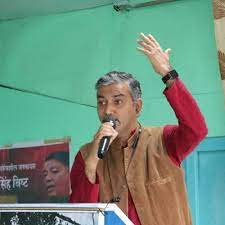 Kumoan Commissioner to inquire into Indresh Maikhuri's charges of not allowing press conference during Bageshwar bypoll
B.D.Kasniyal
Pithoragarh, Sept 6
Dr. V. Shanmugam, Chief Electoral Officer  of Uttarakhand has ordered Kumaon Commissioner to inquire into the complaint against Bageshwar District Magistrate lodged by Indresh Maikhuri, Secretary of the CPI (ML) regarding conditions being imposed  for holding a press conference at Bageshwar on September 1 during the by-election. The polling for the Bageshwar assembly bypoll was held on September 5.
Uttarakhand Chief Electoral Officer ion has written to Kumoan Commissioner to inquire and give a report to him regarding the allegation labelled against the District Magistrate who was also acting as Electoral Officer for the bypoll for not  allowing press conference by Indresh Maikhuri and imposing certain conditions on him for holding such a press conference.
" We had given a letter of Bageshwar District Magistrate informing her about holding a press conference on September I but instead of giving permission as per the democratic norms, she first questioned our right to hold a press conference as we have not fielded any candidate in the bye-election , and thereafter she put some conditions stating that we will have to give the text of the press conference prior in writing to the administration," alleged  Indresh Maikhuri, state secretary of CPI(ML) in Uttarakhand.
Anuradha Pal, District Magistrate and Chief Election Officer, Bageshwar has said that whatever has been done in this connection was according to the norms set by the Election Commission of India ." If some conditions were imposed, that were also as per the Election Commission norms and with  permission of the commission," said the District Magistrate.