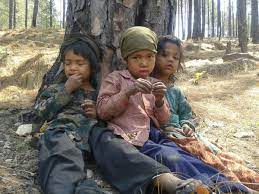 Efforts needed to save 'Van Raji' tribal community from extinction
B.D.Kasniyal
Pithoragarh, Sept 7
Special efforts are required to empower the 'Van Raji' tribe of Pithoragarh, that is on the verge of extinction, revealed a survey conducted by  ARPAN (Association for Rural Planning and Action), a Non Government Organisation (NGO)working in collaboration with South Asian unit of Rosa- Luxembourg- Stiftung Foundation, an international group.
The 'Raji' community, a schedule tribe community, living in remote villages of Pithoragarh, Champawat and US Nagar districts of Uttarakhand state, has a total  population of 1075 members in 249 households spread over 11 villages of three districts."The highest number of Raji population lives in nine  villages of 3 blocks of Dharchula, Kanalichina and Didihat blocks of Pithoragarh district, s followed by Champawat and US Nagar districts where one Raji community village in each district is situated," said Renu Thakur, chairperson of ARPAN.
According to Thakur, to empower this tribe, that is under category of particularly vulnerable  tribal group or PGTV, state should take over policies to strengthen infrastructure in Raji villages and provide them complete social security. "The state should should improve their social infrastructure with an aim to improve their social security. The Rajis should be given regular employment to better their purchasing power  and to give rural employment, their existing skills be enhanced by training and providing infrastructural facilities like irrigation and soil testing facilities, " said Renu Thakur.
"The 'Raji' community survives by working as agricultural labourers and daily wage workers, but needs more land titles, food security by implementing recognition of Forest Rights ' Act, 2006," said Thakur.
The survey further revealed  that the dropout rate of 'Raji' children from  secondary schools is 75 percent, due to inaccessibility to schools, their remoteness and expensive education up to high schools." Not only education but health issues of Raji community is alarming as while the male suffer from malnutrition and  stomach pains, the female suffer from reproductive health issues due to early child bearing, frequent pregnancies, lack of proper nutrition, which are the  main causes for health deterioration in  them," said Renu.
The survey has been conducted in the sphere of economic status, land holding, education, health, housing and toilets, their access to government schemes and  their political status." Despite been covered under Forest Rights Act, 2006, only 20 percent 'Raji' families have government land deeds but despite deeds, that are yet to receive land titles, and several of their other claims have been rejected due to lack of  sufficient documents," said the survey .