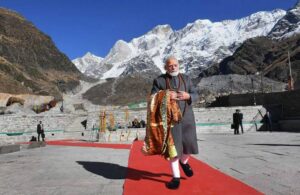 B.D.Kasniyal
Pithoragarh, Sept 23 Keeping in view the proposed visit of Prime Minister Narendra Modi's to Jolingkong, probably on October 11,12 this year, the ongoing Adi kailash and Om parvat pilgrimage will be stooped from October 5, 2023 according to officials
"We have today written to ITBP commandant of the area that keeping the proposed VIP tour, to Gunji, Kalapani and Jolingkong, on October 11, 12 th this year, the pilgrimage to Adi kailash and Om parvat be stopped from October 5th till the VIP tour concluds," said Divesh Shashni. SDM of Dharchula.
According to the SDM, it has also been decided that, keeping the security concerns of VIP in mind, it has also been decided that from October 6th onwards the local villagers and employees, going to Gunji, Jolingkong or Narayan Ashram,will also have to obtain inner line permits from the office of SDM Dharchula.
The Prime Minister Narendra Modi is likely to reach Jolingkong of Adi Kailash on October 11th to worship Lord Shiva at temple at Jolingkong near Adi Kailash in Vyans valley and after staying at Narayan Ashram for one night ,reach pithoragarh town on October 12th to address a public rally organised by BJP unit of Almora parliamentary constituency.