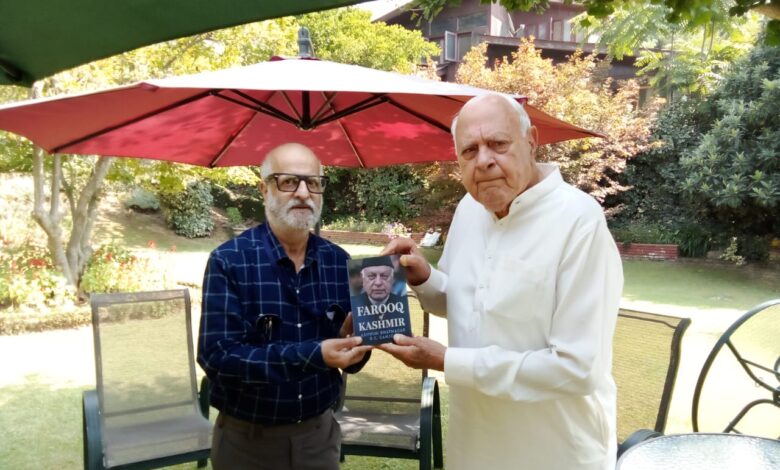 'I won't be your son If I don't shake all of India,' Farooq Abdullah once angrily told his father                                                              Srinagar, Sept 23
'Farooq of Kashmir' by Ashwini Bhatnagar and R.C. Ganjoo delves into the life and times of the former CM of Jammu and Kashmir, Dr. Farooq Abdullah, highlighting his shrewd maneuvering and essential role in Kashmir's political landscape.
R.C.Ganjoo presented the book to Dr. Farooq Abdullah and his son Omar Abdullah at their  residence at Srinagar, today.
Sheikh Abdullah began his last presidential speech. "After 50 years," he said with his typical flourish, "I get a chance on this historic moment to transfer to the younger generation the trust handed over to me by martyrs—I lighted this torch, and many a storm could not extinguish it until today when (I) transfer (it). Fervently, I hope that Dr Farooq shall prove worthy of the trust. I transfer my presidency to him."
He then, ironically, harked back to the history of the Congress Party to justify the 'crowning' of his son. He recalled the moment when, at the 1929 session of the Indian National Congress, Pandit Motilal Nehru passed the reigns of leadership to his son Jawaharlal.
Moti Lal Nehru, also a Kashmiri, had quoted from 13th century Persian poet Sheikh Saadi, "If the father doesn't accomplish the task, the son can," as a reason for the political succession. The Sheikh did likewise.