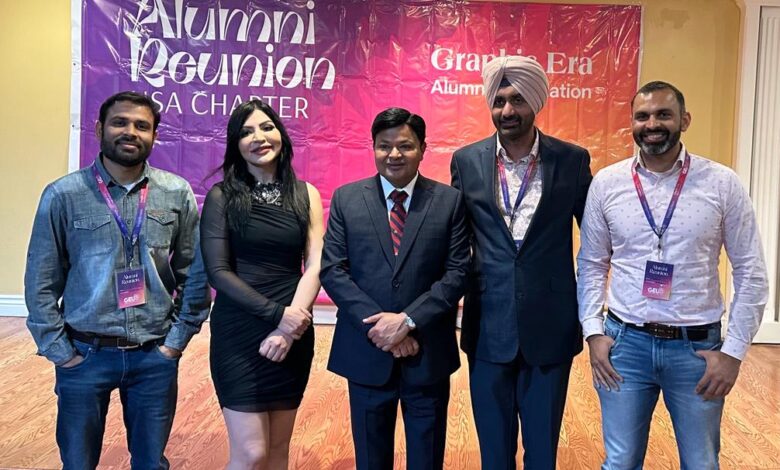 Challenges can become a road to success:  Dr. Kamal Ghanshala
Graphic Era University 's Alumni meet in America
Dehradun, September 26
When former students of Graphic Era University met in United States of America (USA), it was not only a walk down the memory lane but also learning new things with a resolve to even move further ahead in life. The students of yesterday who are working as top officials in prominent companies around the world today were full of confidence  with a gratitude towards their alma mater.
The event was alumni meet of Graphic Era Deemed University and Graphic Era Hill University organised in the Los Altos of California. Graphic Era Group of Institutions' Chairman, Dr. Kamal Ghanshala while addressing the alumni said that it is not an easy task to build an identity in big companies of America but strict discipline, hard work and honesty are the key to transforming dreams into reality. He said that the alumni of Graphic Era are making their name in the whole world while taking the legacy of Graphic Era forward.
Mentioning about the challenges, struggle and success of Graphic Era since its inception, he said that the work done with a good objective never goes  waste, if one  has a vision and  confidence in achieving it . "When you forget about everything else and work ardently towards your goal, the challenges that were once blocking your way, turn into the path of success," he said.
Dr. Ghansahala gave details about the work of Graphic Era in the medical field and announced  that high level medical treatments are now available in Uttrakhand. The preparations of making a big hospital into a college next year are also completed. Dr. Ghanshala was hugely applauded for his melodious songs as his students got to witness his new personality as a singer.
Alumni from far distant places attended the event. It included the students till the batch 2005 of courses like B.tech, MCA, MBA, BBA, BCA, etc. It was a moment of joy for the students based in America to see their beloved teacher in front of them. On the occasion, former students relived their stories of their college, classes and hostel life. They also shared information about their current professional lives.
Graphic Era Group of Institutions' Vice Chairperson Rakhi Ghanshala, teachers Mahantesh P. Shetty and Amreesh Sharma along with Anuj Chaudhary and Varun Singh- Apple, Vaibhav Agarwal – Google, Reshant Chandra – DocuSign, Karan Kartikey Singh- Deloitte, Chirayu Joshi- HCL America, Navratan Arora- PennyMac, Gaurav Saxena- Cognizant, Vishal Grover- Oracle America, Archana Koul- JP Morgan Chase, Harneet Singh Virk- Teladoc Health, Shipra Singhal- Adobe along with other alumni working in prominent American companies were present.