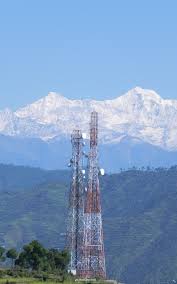 Jolingkong residents receive surprise gift prior to PM 's visit
B.D.Kasniyal
Pithoragarh, Oct 4
The people living in the remote Jolinkong area near Indo-China border in Pithoragarh district of Uttarakhand received a pleasant surprise toady when their  mobile phone starting ringing.
Keeping in view the visit of Prime Minister Narendra Modi to Jolingkong on October 11,the BSNL has installed a Base Trans Receiver Stations( BTS) facilities at Jolingkong and Narayan Ashram of Dharchula sub division of Pithoragarh district.
"We have installed two Base Trans Receiver Station(BTS), one each at Narayan Ashram and Jolingkong of 2G and 3G capacity  to provide communication facilities during PM's proposed tour to the region on October 11," said Mahesh Singh Nikhurpa, General Manager of BSNL, Almora region.
The BSNL General Manager said that the temporary BTS will cover 4 to 5 km areal distance in both places that would be able to cover all required communication needed to PMO during  PM's visit to the region
According to the BSNL GM, the proposal to install a permanent BTS at Jolingkong is on the anvil and it could be installed by April  2024." The proposed BTS in Jolingkong will be of 4G capacity," said the GM.