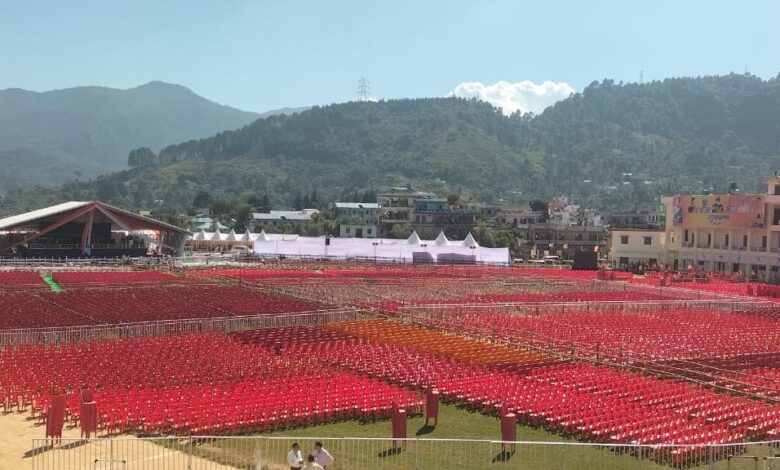 Colourful welcome awaits PM Modi in Pithoragarh
B.D.Kasniyal
Pithoragarh, Oct 11
A colourful welcome awaits Prime Minister Narendra Modi to border district of Pithoragarh during his proposed visit on October 12 as the entire six kilometre long   route from Naini-Saini airport to the stadium is fully decorated with BJP flags, banners on shining road repaired and painted for the occasion and done up with murals and paintings depicting culture of all the regions of the state. Prime Minister Narendra Modi is scheduled to address a party rally tomorrow at the stadium
"We have invited cultural troupes from all corners of the Kumaon region. These groups will welcome the Prime Minister at several places during of his drive from airport to the SS Waldia sports stadium at Pithoragarh," said Chander Singh  Chauhan, Regional Archaeological Officer, Almora. He further said that 62 cultural troupes from all over the state including each districts of Kumaon region and three from Jaunsar Bawar and two from Pauri Garhwal from Garhwal region would participate in the programme.
According to programme of the Prime Minister, released by Prime Ministers' Office (PMO), he will reach Jolingkong, at 8.30 from Bareilly and will offer prayers at 'Parwati Tal' and seek blessings of Lord Shiva at 'Adi Kailash'. On reaching Gunji, the Prime Minister will be welcomed according to the tribal rituals of Rung tribes by making him wear tribal turban and 'Ranga', the upper garment. We will also offer him sacred water specially brought from Mansarovar Lake by Nepalese  traders from Mansarowar," said Ashok Nabiyal, patron of Rung Kalyan Sanstha, the organisation of local tribes. "The prayer at Shiv Parwati temple, will be solemnized by Virendra Kutiyal and Gopal Singh, the priests of deity from local communities.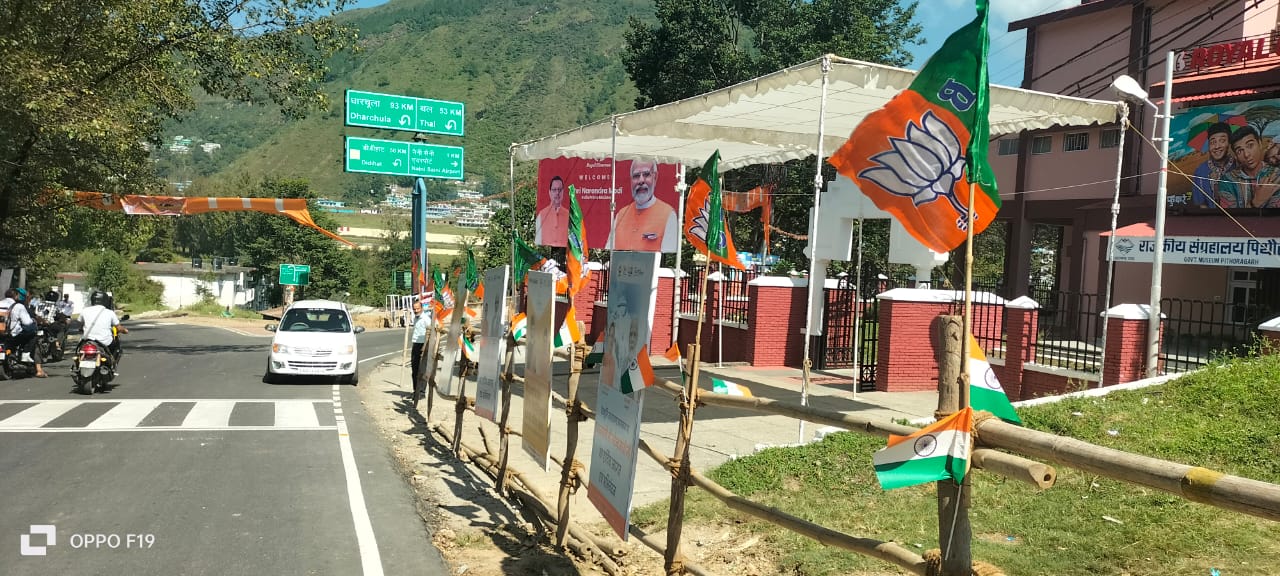 After meeting local people and security forces at Gunji, the Prime Minister will reach Shaukiyathal helipad near Jageshwar in Almora district, at 11.30 am and directly drive to 15 km away Jageshwar Dham."After worshipping at four temples, conducting 'Parikrama' of 'Jyotirling' and meditation  at Jageshwar, he will also have lunch where he will be offered traditional Kumaoni dishes at Jageshwar, " said Jyotsana Pant, manager of temple committee of Jageshwar.
The Prime Minister will return back to Pithoragarh at 1.45 pm and drive straight to stadium to address a public rally there." We expect more than 50000 people from whole Kumaon region to attend the rally," said Ajay Tamta, BJP MP from Almora.