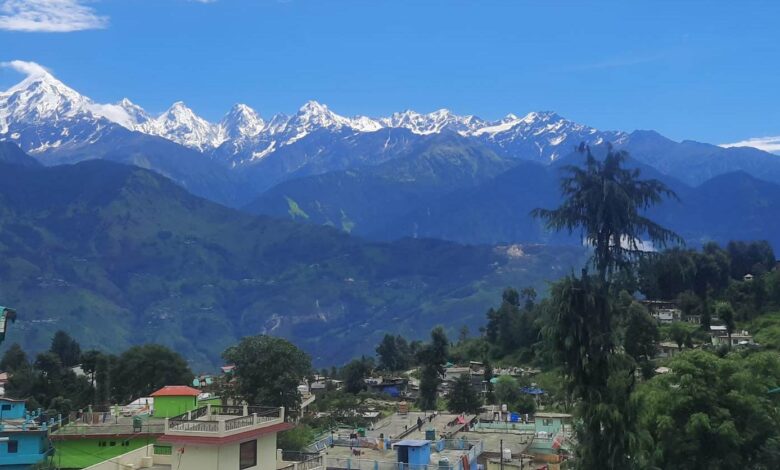 First seasonal snowfall, hailstorm bring in early winters in Kumoan Himalayas
B.D.Kasniyal
Pithoragarh, Oct 16
High altitude valleys of Johar, Darma and Vyans in Pithoragarh district received first major snowfall of the season last evening, while lower valleys received hailstones simultaneously. The situation resulted into cold weather conditions both in higher valleys and lower region of Kumaon area.
It  started after 4 pm on Sunday  and resulted into snowfall in surrounding peaks of Munsiyari, the one hour long snowfall resulted into dipping of temperature up to 4 degree Celsius while the highest temperature remained at 14 degree Celsius in Munsiyari.
"Such early snowfall used to take place by mid November till last year but  this year with western disturbance, the cold has dawned early and the number of tourists coming to Munsiyari has gone down after August this year due to change in weather conditions," said Puran Pandey, a hotel owner.
"The village of Kuti, at 12300 feet high Himalayan region of Vyans valley, received average snowfall with rains last evening that resulted into severe cold conditions in and around the village," said Narendra Kutiyal, a villager and home stay owner in Kuti village.
"It was 3 inches of snowfall in the village while more than 6 inches of snowfall witnessed on the higher peaks," said Indra Singh Kutiyal, a resident of Kuti village.
"Due to early cold conditions this year, the high altitude villagers have started preparation for migration to lower valleys, one month in advance  this year," said Narendra Kutiyal.
While the villagersof Sipu, Tidand and Marcha villages of Darma valley are ready  to leave for lower valleys due to severe cold conditions there, tribal villages of comparatively  lower heights are planning to leave for lower valleys in the third week of October. "The villagers are likely to migrate this year a month in advance this year," said Kutiyal.
Lower valleys of Pithoragarh district namely  Askot, Didihat Kanalichina and Didihat witnessed hailstones last evening."The major hailstone downpour last evening resulted into destruction of newly sown winter vegetables crops in the region," said KB Pal, a resident of Askot village of Didihat sub-division of the district.