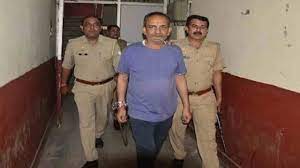 Are co-conspirators from administration in multi-crore land record scam being spared with milder departmental  inquiry?
S.M.A.KAZMI
Dehradun, Oct 20
While, one of the main accused in multi-crore Dehradun land record scam namely K.P. Singh died in judicial  custody in Saharanpur under suspicious circumstances, two days ago, surprisingly, the Special Investigative Team (SIT) probing the land scandal has recommended an administrative inquiry against the alleged culprits from office of sub-registrar and revenue department instead of filing criminal cases against them. Kanwar Pal Singh, known as one of the main accused in the Land record scandal had got his bail cancelled in an old case and went to jail in Saharanpur two months ago as the land record scandal surfaced. He died in a Saharnapur hospital while in judicial custody.
Interestingly, already 19 people including three lawyers have been arrested in a criminal case registered at Kotwali police station case no-281/2023 under sections 420, 120-B,467/468/471 IPC by the police after investigation by the  SIT.  In the series of land frauds , an organised land mafia defrauded unsuspected citizens of their property by manipulating land records and other illegal deeds with the alleged connivance of officials and employees of sub-registrar ,land records and revenue officials.
Sarvesh Panwar, Superintendent of Police (traffic), who is heading the Special Investigative Team (SIT) formed by the police to investigate the matter in a letter to the SSP, Dehradun has written that after minute inquiries from the office of Registrar more than 30 land registrations on Ring Road were investigated and names of several suspects cropped up and further investigations into their bank accounts showed that huge transactions worth crores of rupees have been done in these land cases. He further wrote that based on evidence, 18 accused have been arrested included Dal Chand, Ajay Chhetri and Vikas Pandey, employees of office of sub-registrar and revenue department.
The SIT chief pointed out that it came out in the probe that the accused namely Kamal Virmani, Kanwarpal, Imran and Rohtash prepared fake land records of land on Ring Road, Ladpur, Ranipur, Navada, Clementown, Majra and Rajpur and replaced the original land records in connivance with the employees of the sub-registrar office. It also came to light that by conspiring with the revenue officials and employees they got the mutation done on fake land papers depriving the rightful owners of their property. It further came to light that the alleged accused pressurised the then Assistant  District Government Counsel (ADGC) and Additional Tehsildar and got orders on fake and suspect land papers to get the name of one of the accused namely Santosh Aggarwal registered in register R-6.
The SIT Chief further wrote that these cases are of serious nature and more than 12 more cases of land frauds  have been registered at Kotwali, Patel nagar, Clmentown, Rajpur, Cantonment police stations involving worth crores of rupees. He wrote that these cases point towards serious lapses on the part of offices of sub-registrar and revenue department. He recommended that there is an urgent need for an administrative inquiry into the conduct of officials and employees of sub-registrar office, Additional Tehsildar Sadar Bhagwati Prasad Jagudi of revenue department, employees and other officials of both these departments and the ADGC Suresh Chand Sharma.
Sarvesh Panwar wrote to the SSP, Dehradun recommending departmental inquiry against these concerned officials allegedly involved in the multi-crore land record scandal. The SSP in turn wrote to the District Magistrate forwarding the recommendation of the SIT.
However, the pertinent question being asked is why the officials of sub-registrar office and revenue have been spared from being charged in the criminal cases like their alleged co-conspirators.