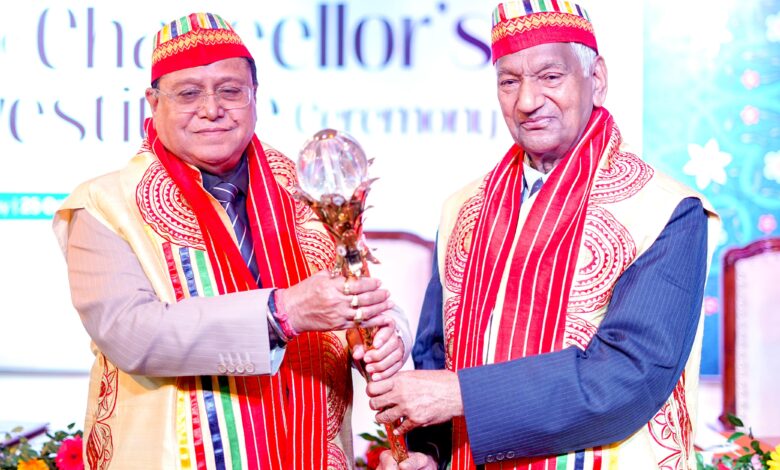 Distinguished scientist and member 'Niti Ayog' Dr.V.K. Saraswat appointed as Chancellor of Graphic Era University
Dehradun, Oct 25
One of India's distinguished scientist and a member of 'Niti Ayog', Dr. Vijay Kumar Saraswat has taken charge as Chancellor of the of Graphic Era Deemed University, , in the grand investiture ceremony, held here today.
Being the member of Niti Ayog, his appointment as the Chancellor of this prestigious University is a proud opportunity for Uttrakhand and Graphic Era Group of Institutions .
Dr. Vijay Kumar Saraswat, a member of the 'Niti Ayog', formerly served the country as the Director General of India's most important scientific institute – Defence Research and Development Organisation (DRDO) and also served as the Chief Scientific Advisor of the Indian Ministry of Defence.
The investiture ceremony started with an academic procession led by Registrar D. K. Joshi with University's dignified 'Sengol' held at the K.P. Nautiyal auditorium of the university. Graphic Era Deemed University's Chancellor Dr. S. K. Khanduja, Vice Chancellor of both the Universities namely Dr. Narpinder Singh and Dr. Sanjay Jasola, Pro Chancellor Dr. Rakesh Sharma, officials and senior faculty also graced this unprecedented educational procession.
Dr.V.K. Sarswat in his address stressed upon the importance of academic excellence, innovation fostering and creative programs of the university to make it reach further new heights. He said that, increasing research initiatives and multidisciplinary collaborations will set us apart on the global stage.
Dr. Saraswat appealed to make the University's presence more international by emphasizing on the importance of partnerships with leading institutions worldwide, global outreach and establishing new dimensions in the research field. He expressed his commitment towards academic excellence, research in new fields and collaboration with new technologies. He showed confidence that leading Graphic Era with his inspiration will set new benchmarks in the field of success and achievements of the Graphic Era group of Institutions.
Earlier, Chancellor Graphic Era Deemed University, Prof. S. K. Khanduja addressed the ceremony and assigned the University's Sengol to the new Chancellor. Aditya Agnihotri threw light on the biography of Dr. Saraswat while Pro. Chancellor Dr. Rakesh Sharma expressed his gratitude at the end.
In his message, Graphic Era Group of Institutions' Chairman Dr. Kamal Ghanshala congratulated Dr. V.K. Saraswat. He emphasised that Dr. Saraswat's appointment is an exciting opportunity and fresh expectationsas it would  pave the way to a new era of growth, innovations and excellence and a new dimension will be added to Graphic Era Deemed University that will undoubtedly take the University to newer heights and establish more dynamic dimensions.
Dr. Ghanshala said that Dr. V. K. Saraswat comes to university with an impressive track record of leadership, a wealth of experience and a deep commitment to the values that our University holds dear. His dedication to higher education, research and community engagement aligns perfectly with our University's mission and vision. He expressed trust in the guidance of Dr. Saraswat under which Graphic Era will achieve newer heights of accomplishments.