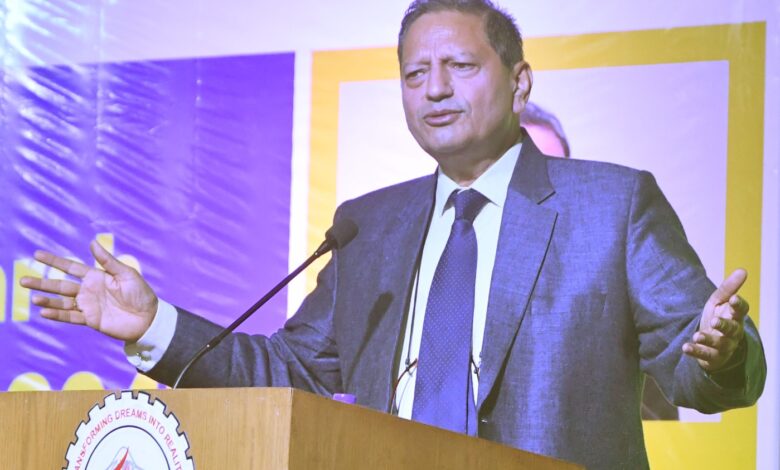 Dr. Sanjeev Chopra presented a vision of future changes and challenges
Dehradun, Oct 26
Dr. Sanjeev Chopra, a former Director of Lal Bahadur Shastri National Academy of Administration discussed on the changes and challenges faced by India in the  future.
He was speaking at a program organised in Graphic Era Hill University's K. P. Nautiyal Auditorium  under the banner of ' Amrit Kaal Vimarsh Viksit Bharat by 2047' organised by the Union Education Ministry Education, here today.
. Dr. Sanjeev Chopra said that the success of a nation depends on multiple parameters like strong military, economy, resources, etc. People who are working with responsibility in different fields contribute to the development of the country.
He further said that urbanisation, migration and women's contribution in the workforce is a driving factor in the development of a nation and a strong robust judiciary, free press, election commission, etc., give a unique identity to us from other nations.
Vice Chancellor Graphic Era Deemed University Dr. Narpinder Singh, Vice Chancellor Graphic Era Hill University Dr. Sanjay Jasola, Dean Life Sciences Dr. P. Krishna and Graphic Era Deemed University's, HOD Department of Management Studies Dr. Sachin Ghai were also present during the talk.