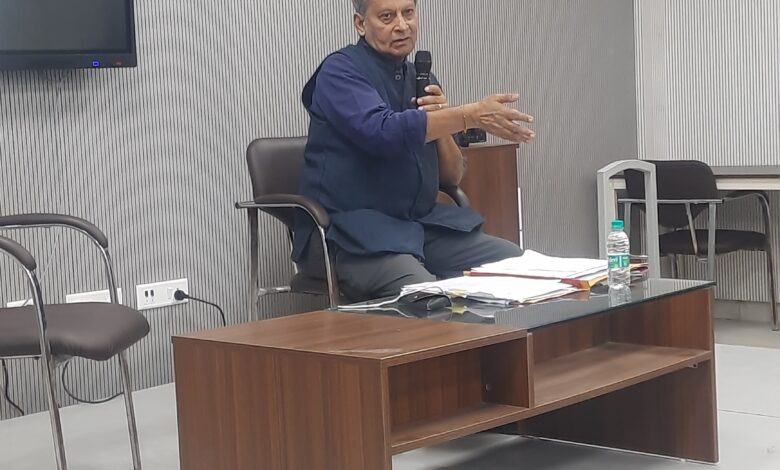 Badshah Khan-the astounding Frontier Gandhi remembered in Doon
S.M.A.KAZMI
Dehradun , Oct 26
The extraordinary role of Badshah Khan, Khan Abdul Ghaffar Khan  also known as 'Frontier Gandhi' in the freedom movement and his immense contribution in the social and economic well being of the common people throughout the Indian sub-continent was recalled at a talk" Badshah Khan-The astounding Frontier Gandhi" by eminent intellectual and Supreme Court lawyer Anil Nauriya at Doon Library and Research Centre, here today.
Recalling the contribution of Badshah Khan as a non-violent Gandhian leader hailing from North Western Frontier Province (NWFP),  Anil Nauriya explained that it was really unfortunate that his role and contribution is getting forgotten and attempts are being made to even erase him from public memory. " It is painful that a stalwart of freedom movement who was loved and admired throughout the country from  Bengal to NWFP and from Gujarat to Bihar is getting forgotten. It is more shameful that the name of a hospital after him at Faridabad has been changed by Haryana government," he lamented.
Giving details about his early role as a political and social activist from as early as 1919 when he opposed Rowlatt Act and was imprisoned along with his father Abdul Bahram Khan  who was 90 years old, Anil Nauriya threw light on the unique character of Badshah Khan which stood him apart from others. " He was an anti-thesis of what Talibani mindset represent. He was proud of the Buddhist heritage of Afghanistan which Talibans destroyed at Bamiyan and even took Mahatama Gandhi to Taxila another Buddhist site as a show of his reverence to Buddishm," he said.
Anil Nauriya said that Badshah Khan who belonged to an illustrious Pushtun family of Muhammdzai  from Utmanzai Hashtnagar and went to Christian run Mission school and like his elder brother Abdul jabbar khan who is also known as Dr. Khan Sahib wanted to go to England for further studies but was disallowed by his mother. He was also offered commission in the British Army which he refused. After graduating from  Aligarh Muslim University (AMU), Badshah Khan started working as a social reformer by starting schools in his area. He also started a Pahsto language monthly titled 'Pushtun' in 1928 and in 1920's founded 'Khudai Khidmatgar', also known as 'Red Shirts',  a non-violent movement against exploitation, social reform and independence from British Imperialism. It was founded on Gandhian principle of satyagraha and non-violence.
Starting from 1919, British administration was particularly severe on Badshah Khan who served more than 12 years in imprisonment. " He was also arrested in the presence of Mahatma Gandhi from his ashram at Wardha where he had gone with his children," said Anil Nauriya. He also suffered immensely after partition as he was against two nation theory and creation of Pakistan and had demanded that Pushtun people be given the choice of having their own autonomous state which was rejected by Britishers. An eyesore for Pakistani establishment, Badshah Khan remained in Pakistani jails for 15 years and house arrest for upteem times.
About the connection of Frontier Gandhi with Uttarakhand, Anil Nauriya narrated the incident of April 23, 1930 where the British ordered its' troops to fire on Khudai Khidmatgar demonstrators protesting against the arrest of Badshah Khan and other leaders, when Chander Singh Garhwali of Garhwal regiment refused to obey the order to fire on unarmed protestors at Kissa Khwani bazaar at Peshwar. " I had the opportunity to visit the bazaar of Peshwar in Pakistan in 1992," Anil recalled.
Regarding the connection of Badshah Khan with Dehradun, Anil Nauriya revealed that two of his sons  namely, Abdul Wali Khan and Abdul Ali Khan received their school education from Col. Brown's School, Dehradun in pre-partition India. Abul Wali Khan was a senior politician and leader of Awami National Party in Pakistan. Badshah Khan died in 1988.
Anil Nauriya also presented the inquiry report of the Congress party in the Kissa Khwani bazaar massacre of 1930 headed by Vital Bhai Patel. " The Britishers did everything to suppress the report and very few copies are available today," he added.
Another Doon connection which was pointed by Anil Nauriya was about Amir Chand Boambwal , a senior journalist of Peshawar and a close associate of badshah Khan who brought out 'Frontier Mail' newspaper. Amir Chand Boambwal gave photographic evidence in the Congress Committee inquiry report about 'Kissa Khawani bazaar' massacre. Amir Chand Boambwal , after partition shifted to Dehradun like lot of people from NWFP and ran his newspaper till his death.
Anil Nauriya also recalled the visit of Badshah Khan to Dehradun in 1969 which he witnessed as a school student.  " He was the first non citizen to receive 'Bharat Ratna', the top civilian award of the country and Nelson Mandela of South Africa was the second. His contributions and above all his message of love and brotherhood needed to be remembered and imbibed,"  he said.