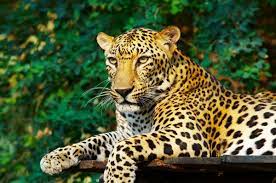 As winter starts, menace of man-eating leopards stalks Uttarakhand hills
B.D.Kasniyal
Pithoragarh, Nov 1
As winter sets in, the menace of man eating leopards has increased in the Uttarakhand hills. There is complete scare of man eating leopards and local people are concerned about the safety of young children following the killing of a two years child by a leopard, two days ago in Pithoragarh district. The students studying in schools on the periphery of Kothera village have been stopped to go out of their classes.
" We have stopped the students from stepping out of their classes after the leopard was again seen near our school  today," said Mohan Chandra Upreti,a teacher in primary school Kothera.
According to the villagers, due to panic, created by sighting of leopard frequently, the village women are not going alone to their agricultural fields or to the forest to collect fodder and guardians are escorting the students to their respective schools. " Untill the leopard is caught or caged, the panic will continue," said Tribhuwan Pathak, a villager of Kothera village.
Nearly two year old  Anshu, a original resident of Rudrapur, was lifted and killed by a leopard two days ago, when he was playing in the campus of his maternal uncle's house in Kothera village of Gangolihat sub- division of Pithoragarh district. The villagers later recovered his body from the forest and cremated today after post-mortem examination.
" It is third killing by the leopard in last one year, as one person was killed in Jakhni village and another was killed in Bhunigaon village of the area last year before this incident," said Tribhuwan Pathak, the villager.
Pithoragarh District Forest Officer Jeewan Mohan Dagare has said that his department has installed two cages in the village to catch the man eating leopard.
" We are also appealing to the villagers to remain alert and cut the bushes grown up near their houses to restrict the hiding places of wild animals ," said the DFO.
"We are also keeping an eye on the movement of leopard and our team is patrolling in the area to nab the leopard," claimed DFO.
According to Pithoragarh forest office sources, over 300 villages of the district, are affected from man eating leopard menace from last several years." These villagers included from Didihat, Berinag Gangolihat sub divisions  and  villages of Pithoragarh and Munsiyari sub division where are man eating leopards are active ," said the DFO.
According to forest office sources the man eating leopards in last 20 years had roamed and entered over 60 villagers of the district killing over 75 persons and injured more than 150 persons."The women and kids between 6 to 10 years of age are most prone to leopard attacks, "said the forest officer.
In April, this year, the authorities have to impose night curfew and close the school for few days following killing of two elderly people by a man eating tiger on the fringes of Kalagarh Tiger reserve in Rikhnikhal and Nainidanda villages of Pauri Garhwal district. Birender Singh, a 73 year old farner was dragged by a tiger while he was working in his field along with his wife on April 13. The half eaten body of a ranveer Singh , a retired school teacher was found in Simli village, 35 kms from Dala village.
A total of 60 man eating leopards including 56 leopards and four tigers have been killed by shooters in the state in past nearly two decades. As per Wildlife Conservation Society (WCS), leopards attacked 550 people in Uttarakhand from 2001 to 2010. Of these, 198 resulted in deaths. On an average, more than one attack was reported every week and roughly two people were killed every month in the last decade
According to rough estimates, more than a thousand attacks by men eating leopard resulting in the death of  more than three hundred civilians and injuries to more than  a thousand civilians have been reported in the past two decades in the state. The problem of man eating leopard has increased manifold with man eating leopards roaming freely in the countryside and even in towns and cities of the hills in search of prey. The forest department has killed 95 man eating leopards till 2015.