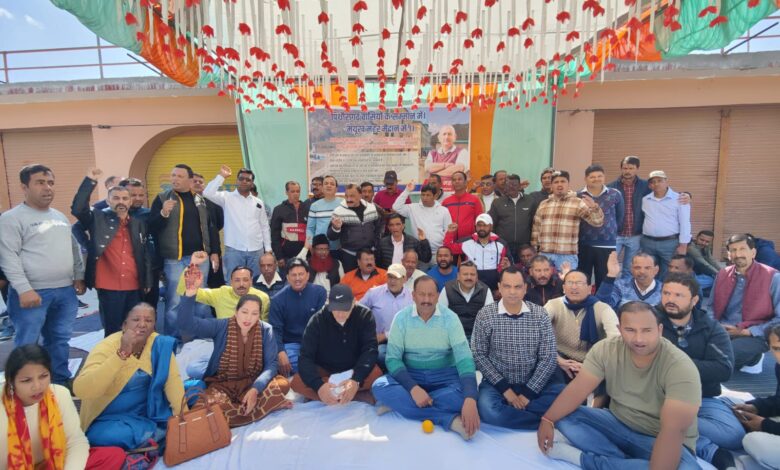 Agitation by Pithoragarh Cong MLA in support of local demands continues
B.D.Kasniyal
Pithoragarh, Nov 4
Sitting on a relay fast from past five days in support of his demands concerning Pithoragarh, localCongress legislator Mauykh Mahar has announced that his fast would continue till his demands are met by the government.
His demands include air connectivity from  Pithoragarh to Delhi and Dehradun, appointment  of medical staff in base hospital, opening of UPSC examination center at Pithoragarh and some other local demands.
Pithoragarh Congress MLA Mayukh Mahar today said it would be better to end his life while fighting in support of the long pending demands of the local people than go home.
The agitators have sought written assurance from the state government to fulfill the demands. "We have decided to demonstrate before the Chief Minister in large numbers when he comes Pithoragarh on November  17, to inaugurate Autumn Festival," said Mahar.
The Congress MLA is demanding filling out all posts of medical staff in recently constructed Base hospital of Pithoragarh, beginning long pending air services from Pithoragarh, metalling of link road from Jajardeval to Khankar for the use of affected villages who lost their road to airport and giving traditional passages to villagers to water and grazing places."Though, the district administration has assured to fulfill the demands under its power, but we will see in coming days how they respond," said Mahar.
Pithoragarh airstrip at Naini-Saini, constructed in the year 1991 and commissioned in the year 1994, is still waiting for regular civil flights despite announcement twice in last.." After a symbolic Air services from and to  Pithoragarh from September 2018 to February 2019, the governments have not taken any interest to start air services from here despite it is highly in demands by students, army personals, government employees and ordinary citizens who wants comfortable and quick travel to Delhi and Dehradun," said Mahar.
Mahar said that the Congress government in 2014 sanctioned a 200 bed Base Hospital in Pithoragarh  to provide specialised medical facilities to poor people of the district but the BJP government could not  even appoint staff in it till date." Despite taking over five acres of land from villagers, the BJP government could not pass budget to appoint over 332 medical staff in the hospital," charged  Mahar.
Senior Congress leader Mahendra Lunthi said that besides Congress workers from across the Kumaon region, various other organisations have come forward to support the agitation.
" We have till date received support from traders union, Hotel Association, Taxi Union, Fair Price Shop Owners Association and Gram Pradhan Sangthan till date and more people are joining us," said Lunthi.
Asked if any demands raised by Congress MLA have been fulfilled, Pithoragarh Chief Development Officer (CDO) and officiating District Magistrate Varun Chaudhari said that administration would inform through the various steps taken in this regard through Pithoragarh information department.