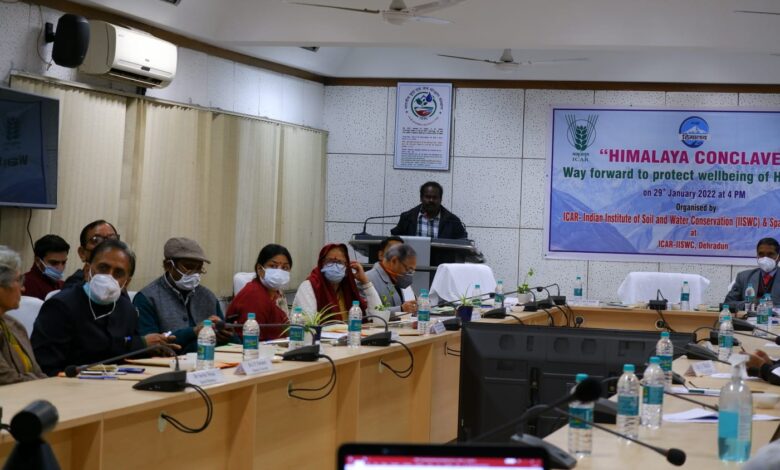 Himalaya Conclave 2022
Experts deliberate on the sustainable development model for Himalaya
Ajay Ramola
Dehradun, Jan 30
Scientists, cultural and environmental experts converged at ICAR-Indian Institute of Soil and Water Conservation, Kaulagarh, Dehradun to deliberate on ways to find a sustainable development model for Uttarakhand on Saturday evening.
The director ICAR-Indian Institute of Soil and Water Conservation Dr M Madhu welcomed the chief guest Dr Anil Joshi Padma Bhushan awardee and founder of Uttarakhand based organisation HESCO, DGP Uttarakhand Ashok Kumar and former union cabinet minister Ramesh Pokhriyal Nishank who  joined through online mode along with other experts.
Dr Anil Joshi said that the Himalayas are the most transformative creations in the world that are changing rapidly at every level, and they are the largest water storehouse in form of the accumulated ice of the country.  He said that the Himalaya is depicted in the food habits, music customs and attire of the region. The main challenge today is nature, environment and biodiversity conservation and the changes in it have been impacted due to our lifestyle. Dr Joshi said that the spread of Covid-19 is not due to nature but due to human intervention and modern technology such as aeroplanes that have played a major role in its spread and  has taken the whole world in its grip.  He said that the world has not been unable to define development appropriately leading to conflict with nature and we should understand that we cannot fight with nature. He also highlighted the need for bringing Himalaya and its development in the political discourse especially when assembly elections are being held in the state.
Kalachand Sen, Director of Wadia institute of Himayalan geology, Dehradun said, "Himalaya were formed by the collision of Indian and Eurasian plates 50-55 billion years back and a lot of processes endogenic or exogenic are still going on and these are leading to changes in geomorphology resulting in landslides or earthquakes. Human intervention is also adding to the woes of Himalaya and still we do have answers to mitigate the problems such as improving livestock and the economy.  He said that the Himalaya is full of vast natural resources such as water which is being used extensively for power generation.  Global warming and climate change are impacting the region extensively and due to this, there is a rise in disaster incidents. He said that the Wadia institute has identified geothermal energy resources and work is going to convert it into electrical energy and effort is to use hydrocarbon resources as per scientific way for the development of the region.
He said that there should be a balance between development and environment. He said that the need is to build a resilient society. He said that the society, government, and the administration should work jointly to face the new challenges being posed in the region. He said that we should work toward building earthquake-resilient structures to reduce the impact of earthquakes  and create awareness among the masses.
DGP Uttarakhand Ashok Kumar said that the Himalaya has always acted as a great natural security barrier, and it is important to ensure that the  borders are secure and that can only be done when we work to stop migration from border areas.
Kalyan Singh Rawat founder MAITI plantation movement that was started in 1995 said, " elder population living in higher altitudes have immense knowledge about the herbs and other natural resources which need to be documented appropriately so that future generations can benefit from". The government should provide technical expertise to the youth of the region so that they can earn their livelihood by producing and marketing such rare herbs that fetch are valuable in the international market, he added.
The speakers emphasised the need to see the native villagers living adjacent to forest areas as an integral part of the ecosystem and not enemies and the forest department can play an important role in creating the synergy by engaging the villagers in such a way that they can earn a livelihood through eco-tourism and in enriching biodiversity and conserving the environment.
Some speakers suggested developing a carbon footprint reduction app that should be shared with all including tourists so that they also turn into eco-warriors in saving Himalaya.
Dr Lakshmi Kant director Vivekananda Parvitiya Krishi Anusandhan Santghan (ICAR-VPKAS) Padam Shri Basanti Bisht and others also addressed the conclave.
Seema Sharma the coordinator of Sparsh Himalaya the organizers of the event said that this conclave will help in bringing various stakeholders under one platform for the holistic development of the Himalayan region.