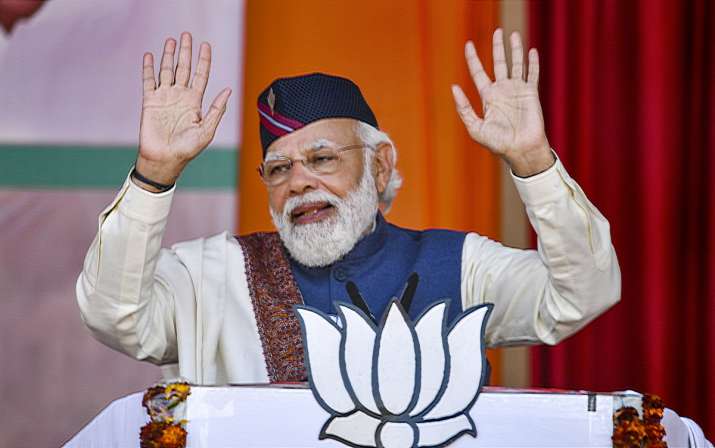 Uttarakhand BJP banking on Modi magic and anti-Muslim rhetoric, Congress on anti-incumbency
S.M.A. KAZMI
Dehradun, Feb 12
An interesting neck to neck bipolar battle of ballots is in the offing in the hill state of Uttarakland between ruling Bharatiya Janata Party (BJP) and main opposition Congress party in the state assembly elections scheduled to be held on February 14. The BJP and Congress have shared power alternately since the formation of the state in 2000.
Both the parties have not left no stone unturned in their quest to influence the voters. While, the Congress is banking on anti-incumbency of the present BJP government, inflation, mis-governance, alleged corruption and frequent change of Chief Ministers in the last year, the BJP has come up with it's time tested formula of communal polarisation and robust nationalism. On the last day of campaigning, the BJP came up with the issue of Uniform Civil Code (UCC) in Uttarakhand in a bid to further its' agenda of anti-Muslim rehotric to appease Hindu voters who are in a majority in the state. Uttarakhand Chief Minister Pushkar Singh Dhami announced that if BJP returns to power, the BJP government in its' first decision would constitute a committee to implement Uniform Civil Code (UCC) in the state.
Already, the Uttarakhand BJP taking cue from neighbouring mother state of Uttar Pradesh had launched a shrill campaign against main opposition Congress of being pro-Muslim. It picked up a demand of a small time Muslim Congress leader seeking a Muslim university in Ssahaspur area which has a sizeable Muslim population to hit at the Congress party and particularly against former Congress Chief Minister Harish Rawat, who is leading the Congress campaign.  The particular Muslim leader said that Harish Rawat has accepted his demand which Harish Rawat denied.
A morphed photo of  Harish Rawat with flowing beard showing him as Sir Syed Ahmed Khan, founder of Aligarh Muslim university was circulated by the official handle of the BJP which was challenged by the Congress in the Election Commission. After the Election Commission reprimand, the photo was taken off from the handle but the campaign against Congress of being pro-Muslim and trying to promote "land jehad" in 'Devbhoomi' become shriller. All the senior BJP leaders indulged in this campaign including Prime Minister Narendra Modi, himself who without mentioning about Muslim University asked during his rallies about what the Congress intends to do in the 'Devbhoomi'.   He rhetorically asked the participants in his rally about the intentions of Congress to harm the culture of the state and appealed  them to teach Congress a lesson for their alleged "misdemeanour".  Assam Chief Minister Himanta Biswa Sarma went a step ahead and alleged that the soul of Jinnah has entered Congress leader Rahul Gandhi.
The Uttarakhand BJP banked heavily on the mass appeal of Prime Minister Narendra Modi, who held three public rallies in the last three days of campaigning in various parts of the state. The Election Commission which had earlier banned any political rally due to fear of Omnicron Virus has allowed these rallies at the fag end of the campaigning providing a sigh of relief to the state BJP. It has come as a big boon to the ruling BJP, which pressed senior party leaders to address voters. Prime Minister Narendera Modi addressed public rallies at Srinagar Garhwal, Almora  and Rudrapur , while Defence Minister Rajnath Singh, Home Minister Amit Shah, Madhya Pradesh Chief Minister Shivraj Singh Chauhan and Assam Chief Minister  Himanta Biswa Sarma toured and addressed public meetings throughout the state.  Uttar Pradesh Chief Minister Yogi Adityananth also addressed three rallies at Kotdwar, Tehri and Roorkee on the last day of campaigning on  February 12.
Rahul Gandhi, former President of Congress and party general secretary Priyanka Gandhi addressed few public rallies during the campaign.
The Congress party which lacks resources as compared to BJP was also short of its star campaigners. Except for lone visit of Rahul Gandhi and Priyanka Gandhi to Uttarakhand none of the senior Congress leaders visited the state for poll campaigning. The onus of carrying the poll campaign was  mainly on former Chief Minister Harish Rawat who himself got bogged down in his own assembly segment of Lal Kuan in Kumoan region from where he is fighting.
The main poll plank of Congress party during the poll campaign was delivery of LPG gas cylinders to domestic consumers at Rs.500 per cylinder.  The Congress has also promised to reserve 40 per cent jobs for women in police department, strict land laws, employment to 4 lakh youth,  free electricity up to 100 units in first year and restarting various other pension schemes of previous Harish Rawat regime.
However, the Congress was unable to take its' poll campaign to a higher pitch by targeting the BJP government for its' various acts of omissions and commissions. The issue of failure of the BJP to bring in 'Lokayukta' as promised by them, collapse of record 37 bridges due to alleged river mining and alleged corrupt deeds could not be properly raised by Congress despite the fact that their fire brand spokesperson Gaurav Ballabh remained stationed in Dehradun for the past more than a fortnight.  The Congress party candidates were on their own to raise such issues against BJP.
On the hand, the BJP in its manifesto promised a stringent law against "love jihad" keeping up with its' anti Muslims campaign, it propose to bring stringent legislation with provision of ten year imprisonment for "Love jehad".
It also promised to form district-level committees to check illegal land occupation affecting the "demographic balance" of the hill state. The BJP also promised to pay Rs. 2,000 per year to poor farmers in addition to the amount they get under the Prime Minister Kisan Samman Nidhi.  Under the PM-KISAN scheme, a financial benefit of Rs. 6,000 per year is provided to the eligible farmer families, payable in three equal instalments of Rs. 2,000.
The BJP due to its' resources and blitzkrieg by their leaders including the Prime Minister was able to raise the level of their campaign in the last three days.
Apart from fighting each other, both the parties are also fighting their own party rebels in the electoral battle. The rebels of both these parties are in a position to influence the outcome on atleast a dozen seats in the state. The ruling BJP is facing rebel party candidates on eight seats including Kotdwar, Doiwala, Dharampur, Rudrapur, Bhimtal, Dhanaulti, Ghansali,  and Lal Kuan.
The Congress party is also facing challenge from party rebels on five seats. Sanjay Dobhal from Yamountri, former minister Matbar Singh Kandari from Rudraprayag, Bhim Lal Arya from Ghansali, Sanjay Negi from Ramnagar and  Sandhya Dalakoti from Lal Kuan are making it difficult for official party candidates in close contests.
The ticket distribution by the Congress party, internal infighting and confusion even amongst its' top leaders to decide on their respective seats till the eleventh hour, could prove crucial in the final count. Former Chief Minister Harish Rawat ,who insisted on contesting from Ramnagar to settle political scores with his friend turned foe Ranjit Singh Rawat could also prove suicidal in case of close contest. In a bid to displace, Ranjit Rawat who had nurtured Ramanagr for years, Harish Rawat finally got his way by shifting him to Salt in Almora and himself choose Lal Kuan. Sandhaya Dalakoti, who was declared as party candidate from Lal Kuan refused to budge and is contesting as an independent.
Similarly, the party bowed down to pressure of Harish Rawat in denying a ticket to former BJP minister Harak Singh Rawat, who joined Congress party recently.  Being a veteran of winning elections from different seats, Harak Singh Rawat could have delivered a seat in the party kitty. Interestingly, the party gave ticket to his daughter-in-law Anukriti Gusain from Lansdown in Pauri Garhwal. Two unknown faces were also given party nominations from Doiwala and Rishikesh seats, making it much more comfortable for BJP, which has a well oiled machine to manage and win elections.
Apart from resources, the Congress party has deficit of dedicated party workers who could have managed the election campaign at the booth level. On the other hand, BJP has organisation with "Panna Pramukhs" ( incharge of each page of electoral rolls) and committed RSS functionaries. The RSS  and its' affiliated organisations including Shishu Mandir schools have presence throughout Uttarakhand.
The AAP which had started off very well last year with the declaration of Col. Ajay Kothiyal (retd) as its' Chief Ministerial candidate has lost steam. In the past one month, party has faced lot of desertions. Uttarakhand Kranti dal (UKD), the regional party which played a stellar role in the formation of Uttarakhand is in disarray. It could make triangular contest at Devprayag and Dwarahat where two senior party leaders namely Diwakar Bhatt and Pushpesh Tripathi are contesting. Bahujan Samaj Party (BSP), which had the third largest vote share in the past elections has put up candidates but unlikely to have any greater impact due to bipolar contest.
The Congress is mainly banking on anti-incumbency factor while the BJP has put faith in its' agenda of robust nationalism and anti-Muslim stance. It would be interesting to watch if the late entry of Prime Minister Narendra Modi in Uttarakhand poll campaign could be helpful for the BJP.