Health
Politics
Uttarakhand
Referral's provision restored under 'Ayushman' scheme, earlier stopped due to the Covid pandemic in the state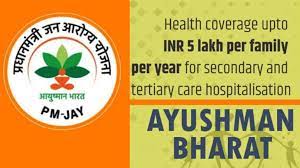 Referral's provision restored under 'Ayushman' scheme, earlier stopped due to the Covid pandemic in the state
Dehradun, Feb 16
The system of referrals that was removed in private hospitals under 'Pradhan Mantri Jan Arogya Yojana' and 'Atal Ayushman Uttarakhand Yojana' has been restored in Uttarakhand. This decision has been taken in view of the decline in Covid 19 cases. As in the past, a referral from a government empanelled hospital is mandatory for the treatment of the beneficiaries in the empanelled private hospitals.
Government-empanelled hospitals will guide 'Ayushman' cardholders before treatment in an empanelled private hospital.
However, the completely listed NABH Hospital, Medical College and district hospitals in the hilly region, the 'Ayushman' cardholder can go directly and get the treatment done as there is no need for referrals there. Under the scheme, the provision of referral from Government empanelled hospitals to private hospitals was provided earlier. But in view of the severity of the emergency of the Covid pandemic, the arrangement of referrals was abolished to prevent the spread of the infection.
As the Covid infections are also under control, now the system of referrals stopped in the emergency of the epidemic has been re-started. The system of biometrics has also been issued again for transparency in the scheme. In view of the spread of infection in Corona, the system of biometrics was also removed.
Chief Executive Officer of the State Health Authority Arunendra Chauhan said that the system of referrals that were stopped earlier under the 'Ayushman' scheme has been restored. Instructions have been issued to all the concerned hospitals for the new arrangement. Information is also being sent through various means for the convenience of 'Ayushman' cardholders.