Economy
National
Tourism
Uttarakhand
India Travel Mart conclave concludes, Uttarakhand Tourism bags best stall award for homestay, adventure and tourism investment incentive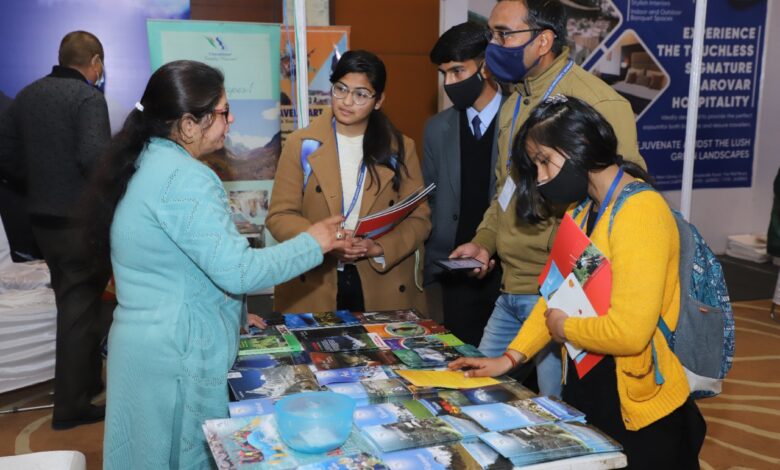 India Travel Mart conclave concludes, Uttarakhand Tourism bags best stall award for homestay, adventure and tourism investment incentive
Ajay Ramola
Dehradun, Feb 19
The three-day India Travel Mart (ITM) organised in collaboration with the Uttarakhand Tourism Development Council concluded on Saturday. The potential tourists were given detailed information about the attractive package and unique tourist destinations. The first two days of the India premier B2B Travel and Tourism Showcase and Conclave, the travel business was discussed in details. While on Saturday, the last day of the mart, the possibilities of domestic and other tourism were discussed.
A special session was organized for travel agents, pan India tour operators and officials of Uttarakhand Tourism and Gujarat Tourism on the occasion.
At the conclusion of the programme, Uttarakhand Tourism was awarded the Best Stall Award for promoting homestay, adventure and tourism investment promotion and Gujarat Tourism for promoting Dholavira (World UNESCO Heritage Site) and Statue of Unity
Uttarakhand Tourism Development Council Deputy Director Yogendra Kumar Gangwar said that Uttarakhand is continuously working to develop the state as a prominent destination for tourism. The objective of the programme is to make travel more enjoyable and hassle-free for the tourists. He said that through this exhibition, the audience was given information about various attractive packages and unique tourist destinations.
Ajay Gupta, Chairman and Managing Director, ICM Group, said the continued success of showcases and conclaves over the years reflects the growing demand for travel services in India and the spending power of domestic and outbound travellers. He also said, ITM Dehradun provided an opportunity for B2B and networking with travel agents and tour operators of Uttarakhand and other parts of the country.
The interaction sessions were organized with video presentations between officials of Uttarakhand Tourism, Gujarat Tourism, and other hoteliers from Bhimtal, Haridwar, Dehradun, Mussoorie, Delhi and Tour Travel Association and media from Dehradun. During the session, state tourism officials highlighted lesser-known destinations (Polo One Day Tour from Ahmedabad), Wildlife Tourism, Heritage Tourism, Adventure and Eco-Tourism, Religious and Pilgrimage Tourism, beaches, Places of Interest, Cuisine, Mela and Festivals.
Indian Association of Tour Operators (IATO), Travel Agents Association of India (TAAI), Association of Domestic Tour Operators of India (ADTOI), Outbound Tour Operators Association of India (OTOAI), Adventure Tours such as Travel Trade Association, Operators Association of India (ATOAI), India Golf Tourism Association (IGTA), Maharashtra Tour Organizers Association (MTOA), The IAAI Agents Association of India (IAAI), Travel Trade Association of Uttar Pradesh (TTAUP),  Entrepreneur Travel Agents Association, (ETAA), Travel Agents Federation of India (TAFI), Tour Operators' Association (TOA), Tourism Leaders' Club (TLC), and Travel Magazine- Travel Mail attended the travel mart.