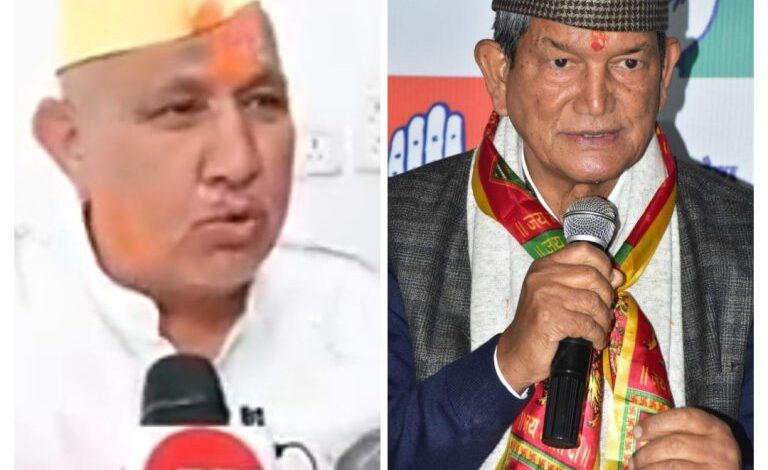 After defeat internecine war of heated words erupts in Uttarakhand Congress, Harish Rawat charged with selling party tickets
S.M.A.KAZMI
Dehradun, March 14
After a humiliating defeat in the recently concluded Uttarakhand state elections at the hands of ruling Bharatiya Janata Party (BJP), a war of heated words has erupted between senior Congress leaders of the state. The Congress party which was hoping to unseat the ruling BJP in the state came a cropper with only 19 seats out of total 70 seats. The BJP won 47 seats securing a comfortable majority to form the state government again.
Former Chief Minister and chief of party's campaign committee Harish Rawat who himself lost badly by over 10,000 votes from Lal Kuan assembly segment has been at the receiving end of the ire of the senior Congress leaders.
Harish Rawat who is active on social media in an emotional message has accepted the defeat and said that he and his party were unable to connect with the voters. He also expressed his surprise at the results despite growing inflation and increasing unemployment.  While going to attend the Congress Working Committee (CWC) meeting on Sunday, he emotional wrote that he was at a loss of words and finding it difficult to face Sonia Gandhi who had high expectation from him.
Pritam Singh, who ran a parallel group in Uttarakhand Congress and won the assembly elections for the fifth time from Chakrata assembly segment taking a dig at Harish Rawat said that shifting of candidates at the last moment sent a wrong signal. Harish Rawat had shifted from Ramnagar to Lal Kuan at the last moment. Pritam Singh further said that leaders who are nurturing their constituencies for years should be given ticket and not to others who are sent to "reap their harvest".
Interestingly, Harish Rawat was announced as a party candidate from Ramnagar much to the chagrin of his once close aide turned bitter foe Ranjit Rawat, who had been nurturing the assembly segment from past five years. Ranjit Rawat, a working President of Uttarakhand Congress was sent packing to Salt assembly segment in Almora. But, suddenly after two days Harish Rawat announced to shift to Lal Kuan assembly segment, irritating senior leader and Harish Chander Durgapal, a former minister and Sandhaya Dalakoti who was given party nomination from Lal Kuan. Sandhaya Dalakoti contested as a rebel candidate. Two other candidates on Doiwala and Rishikesh seats were also changed. The Congress lost all the five seats including Lalkuan, Ramnagar, Salt, Rishikesh and Doiwala.
Harish Rawat in his reply said that he has already accepted the responsibility of the defeat but explained that he did not wanted to contest polls but was forced by the party to contest from Ramnagar but when he went to Ramnagar to set up his office, he was asked to move to Lal Kuan. He further said that he was reluctant to contest from Lal Kuan but was asked that his refusal would send a wrong signal.
Harish Rawat also hit back at the detractors on the issue of 'Muslim University' which was prominently raised by BJP in its' poll propaganda. He asked that who appointed the person who raise such a demand as a Congress party office-bearer and made him a general secretary. He further said that Mohd. Aquil who raised the demand was never close to him politically. He demanded a probe into elevation of Mohd. Aquil in the party, his filing of nomination as an independent candidate and then placating him to withdraw. He expressed his surprise at appointing him as an observer from Haridwar (rural) assembly seat.
On the other hand, Ranjit Rawat, one of the working presidents and a friend turned foe of Harish Rawat charged him of selling party tickets in the state assembly elections. Ranjit Rawat who lost from Salt assembly segment after being shifted from Ramnagar said that some candidates who even after paying money to Harish Rawat are after him to get their money returned. He further charged that manager of Harish Rawat has returned the money of few but others are after him. He squarely blamed Harish Rawat for the defeat of the Congress party. Harish Rawat has not yet responded on his charges.