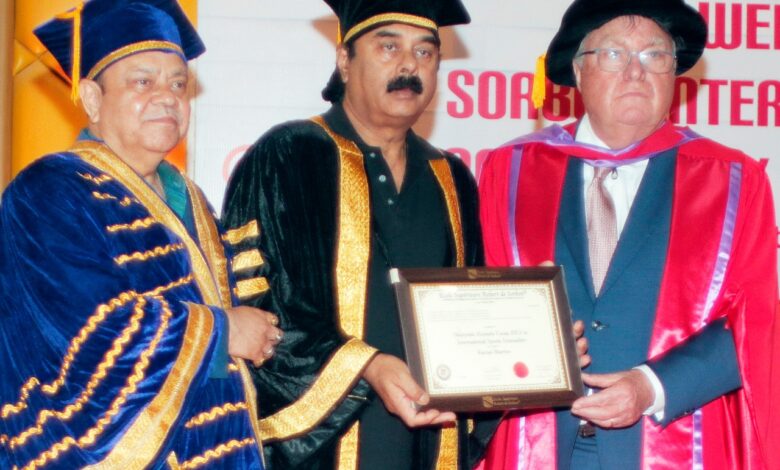 Famous International photojournalist Kamal Sharma gets honorary doctorate
Dehradun , June 19
The 11th Sorbon International Convocation was held at Punarnava Wellness Resort on June 15,  wherein International Sports Photo Journalist Dr. Kamal Sharma was conferred upon  the Honorary Doctorate award/ (Ph.D.) in International Sports Journalism based on his life/work experience, achievements, contribution towards the nation and society.
The Honorary Doctorate  was presented by Dr. John Thomas Prade, (President) and Dr. Vivek Choudhary (Vice President) of Ecole Superieure Robert De Sorbon University , France.
Dr. Premchand Aggarwal, Minister of Finance and Urban Development, Government of Uttarakhand, was the Chief Guest  at the event who was also given Honorary Doctorate ot the occasion alongwith other elite personalities of Uttrakhand – Acharya (Dr.) Ashish Semwal, Chairman Punarnava Resort and Dr. Aditya Thakur – Rural Tourism.
Dr. Kamal Sharma is an internationally acclaimed sports photojournalist who has covered cricket, golf, tennis, polo amongst other sports for the past three decades. He has covered six ICC World Cup cricket Tournaments as a photo journalist. He has also covered five Asia Cup cricket Tournaments, Four Champions Trophy Cricket Tournaments, Five T-20 World Cups, 300 One day Internationals and test matches and 257.Ranji Trophy Domestic Cricket matches.
Besides cricket, he also covered UP open tennis, European Golf Tour, COPA America in Spain and had been official photographer of Dubai desert Classic for nine years.
He was also a photo journalist who covered the 9/11 terror attack on twin towers in New York. He has already held 37 solo photo exhibitions of his work. He held a photo exhibition on 9/11 terror attack at Punarnava Wellness Resort under the theme "SAY NO TO TERRORISM" on the occasion.